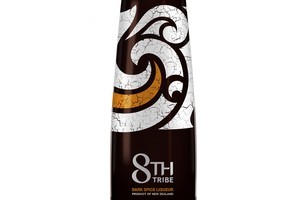 Imagine pressing a needle into a young walnut, feeling for the gentle release that signifies the nut is just green enough to be put to use in an old Italian recipe ... becoming transformed into something unrecognisable as a nut, but altogether delicious. It's the kind of imagining that feels like a family secret your grandmother told you never to forget.
The first taste of 8th Tribe Dark Spice manages to invoke all that and more in the flavours on the nose and tongue. Which is a good result, considering the years of preparation, distilling and passion that have been sunk into this liqueur just starting to make a name for itself. Dark Spice is one of a family of four uniquely Kiwi flavours that are the heart and soul of Distillerie Deinlein, based in the Bay of Plenty.
It really is all about family for liqueur maker Tobi Deinlein - his has been involved in the industry for many years.
Although he was born in Germany, the family migrated to New Zealand and made their home here.
The family business (his mum, dad and a part-timer or two) was officially born in 2001, producing schnapps in the French "eau de vie" style. When your family has been involved in distilling for generations - all the way back to Bavaria - you don't do anything by halves. For example, the copper still came all the way from Europe, and now sits in prime position to take advantage of the sunshine and resulting exceptional seasonal produce from all over the North Island.
So, the result of all that hard work over the years? Passion for the art of liqueur making and the unique produce of the New Zealand landscape are evident in full, refreshing flavours.
The Dark Spice is aromatic and mysterious - we taste-tested it with unsuspecting samplers, enjoying the look of surprise as we revealed the secret ingredients. Yes, it's definitely green walnuts, with a touch of horopito too. We enjoyed the layers of chocolate, coffee, spice, earthiness without the overwhelming sweetness some nut liqueurs possess. It worked well with golden rum and apple tea in a hot toddy twist, but also has appeal as a lower alcohol (approximately 26 per cent) alternative to port.
The kiwifruit variations are equally delightful - try poured over vanilla icecream or used in a gin fizz cocktail.
The feijoa is very true to that hard-to-describe flavour of a New Zealand summer. It's a firm family favourite already and we've stockpiled a bottle for Christmas. We tried it with fresh ginger and topped with champagne, a perfect addition to summer cocktail parties.
Where to buy:
Check out the Distillerie website, JR Duty Free, Smith & Caugheys $49.