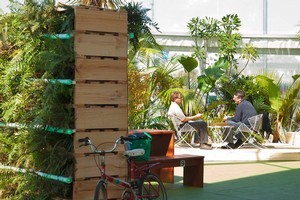 Bringing the outdoors inside is a quickfire way to get a caffeine (or wine) and nature fix - all at once. Here are a few Auckland establishments that offer the best of both those worlds (and a peep of the sea too, if you're lucky).
1. The Conservatory
East 1, 1-17 Jellicoe St, North Wharf, Wynyard Quarter.
The Conservatory has a botanical theme, right down to watering cans being used as cocktail jugs. A beautiful setting right by the water and a varied menu.
2. Snap Dragon
204 Quay Street, Viaduct basin.
Lovely harbour views alongside your meal, and a two story living wall - the largest in New Zealand.
3. Kokako Pop Up Café
HP Wintergarden, corner Beaumont & Jellicoe Streets, Wynyard Quarter.
Auckland coffee roasters Kokako are offering a sustainable slice of Kiwi café culture inside the HP Wintergarden. There's even a farm of worms, gobbling up the leftovers.