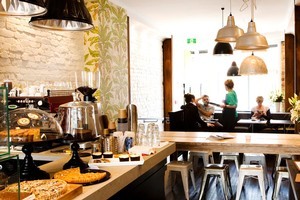 When a cafe opens and is busy on day two, you know it's got to be good. Situated in the lovely heritage building at 48 New North Rd, Eden Terrace, Grano is a welcome addition to this neighbourhood. We can attest to their claims of offering a seasonal menu - the asparagus tart was packed full of the long-awaited green spears and was utterly divine. Licensed and with a deck out the back, it's the perfect place to enjoy a relaxing breakfast, lunch or drinks after work. Open from 6am (to catch the TV types, from Mediaworks/TV3 opposite) to 3pm Mon-Fri, with tapas and drinkies Thur-Fri till late. Closed weekends.
Bake it baby
Followers of award-winning cook book author Julie Le Clerc will be delighted with her latest offering - Julie Le Clerc's Favourite Cakes ($50: Penguin). It is crammed with photographs that look so delicious you'll want to lick the pages. Julie shares her own hard-won baking advice for successful cake-baking in a dedicated "essential notes" section where you'll find handy hints like how to remove any accidental egg shells that may have found their way into the batter or how to correctly test that your cake is cooked to perfection.
Gluten-free folk will be happy too, as there's a whole chapter of recipes that use alternative flours.
* Next Tuesday evening, Le Clerc will be holding a cooking class at Sabato where she will share cooking tips and discuss the recipes in her new book. Be quick, her last class sold out. $85. To book, ph (09) 630 8751.
Book now ...
Foodies take note, next Tuesday will see the release of tickets for the masterclass programme at the 2012 Melbourne Food and Wine Festival next March. The Masterclass Weekend (March 9-11) is the highlight of the month-long festival and the sessions sell out very quickly as foodies snaffle up the opportunity to be up close and personal with some of the world's greatest culinary stars. The festival celebrates its 20th anniversary in 2012 so you can bet it's going to be a good one.
Put it on the list
* New season, locally grown asparagus and strawberries - the surest sign of summer.
* 362 Grillhouse condiments, free from preservatives. We like the Green Goddess Dressing and the Steak & Chop Sauce. Available at Farro's.
* Barker's new patisserie fillings - in their own no fuss, ready-to-use piping bags and with flavours like chocolate creme and lemon & passionfruit, who can resist? At most supermarkets.
Juicy news
Nadu Espresso + Juice Newmarket is another newbie, opening just a few weeks ago. With a wall entirely adorned with the bicycle collection of the young owner Nora Duhn, and with comfy sofas and armchairs, this tiny place is a real gem. Down the less busy end of Nuffield St (No.99), there are healthy juices on offer with catchy names like "spruce" (celery, apple and lemon), plus mini cheesecakes, gluten-free berry muffins, gouda and ham-filled sandwiches, and one of the most beautiful old cream and teal Electra coffee machines you'll find. Pay a visit, it's worth it.
Plug in & recharge
An oasis for those needing to plug in, connect and recharge their batteries (literally) has opened in the Wynyard Quarter. HP is offering a central plug-in zone with free Wi-fi, free use of HP TouchSmart PCs, ePrinters and photo printing kiosks. With the great people from Kokako serving organic coffee and snacks from their pop-up cafe, it's the perfect tech-haven for tourists and locals alike. Open 8am-4pm weekdays and from 9am weekends until October 23.
Editor's note
The New Zealand Guild of Food Writers has just announced the finalists for its prestigious bi-annual awards and Viva can boast that two stories have been selected. Going by the Book and Head Chefs with Attitude both written by eating out editor Nici Wickes have been named as finalists in the journalism category.