Award-winning interior designer Rachael Lovelace is responsible for some memorable spaces.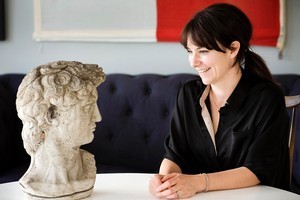 Rachael Lovelace was announced as a silver award winner at the Best Design Awards last week, acknowledging her work in designing Mama Loco's, a vibrant Mexican style bar in Albany. The talented interior designer runs her own design firm, Lovelace & Co, which she launched after working in advertising for 12 years, and has gone on to create various memorable spaces around town, including Kingsland bars Nectar and The Kingslander. This year's award is her second: last year she won silver for her work with Mt Eden bar Ginger Minx. Lovelace tells us about some of her favourite things.
10 FAVOURITE THINGS
1. Studio Toogood
Faye Toogood is a genius - she continually changes direction and delivers concepts tightly to brief. I especially love her work for the Rug Studio.
2. My family and friends
It might be predictable but it is very true.
3. David Bromley nude quilt
I have this stretched and hung on the wall; it was my friend Deborah's brilliant idea on how to get our hands on an otherwise out-of-my-league artist.
4. Dedon Nestrest
A hanging pod made from woven fibre strands, by Parisian designers Daniel Pouzet and Fred Frety. I think one of these in my garden would change my life.
5. Lumber Chair
By New Zealander Jamie McLellan. I love its log cabin detailing, simplicity, lightness and beauty.
6. Stephen Marr
This hairdressing team, who constantly push the boundaries and innovate with great social and environmental values. It is these types of brands that inspire me to be part of creating something special.
7. Choi Jeong Hwa flower blossom
The flower blossom sculpture in the beautiful tree-like canopy of the Auckland Art Gallery. So joyful. His work is insane. Fireworks in my brain.
8. Black Crow Studios
A studio from LA who mash street art with wallpaper. Sourced locally through Netti & Gee, who are constantly finding incredible wall finishes from around the world.
9. Old carousel horse
My first absent bid at an auction house. I felt like I'd won the lottery.
10. Yoga mat
My ugly old yoga mat, from which I always leave a better person.