Class is in session: time to study your ABCs with our A to Z of summer fashion.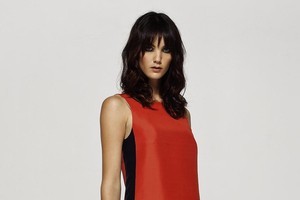 A IS FOR ANIMALS
Fashion's gone animal crackers: see the oh-so-cute dalmatian print grey sweater just arrived at Topshop, perfect for summer evenings; Karen Walker's new eyewear collection "Brand New Critters" and Lonely Hearts' camel print. Then there's the more classic take: animal print. Leopard sticks around for yet another season - now so ubiquitous that it's lost some of its impact, unless it's amped-up a notch like the David Lawrence skirt - but the freshest print for summer? Snakeskin. Actually, any animal will do (as long as it's fake).
David Lawrence Animal jacquard skirt, $198, worn with tencel sleeveless top, $99, and wedge, $189.
B IS FOR BLACK
With that tournament in your face everywhere you turn, there's no escaping the colour black. Embrace it, wear it (even in summer), and delve into New Zealand's black-loving history at the Black in Fashion exhibition that continues in Britomart until October 24.
C IS FOR CLASH
How to wear print now? For summer it's about a tapestry of abstract and geometric pattern, colour and texture, although the key to keeping it this side of chic is to make it relatively tonal. Look to the king of the print collage, Dries Van Noten, for inspiration.
D IS FOR DOTS
The classic summer stripe is forever, but right now is about polka dots. We have Marc Jacobs to thank for cementing this trend, with his polka dot-themed collection for Fall. Decide on your approach for summer: chic small dots, or quirky and oversized - or if you just can't let go of stripes, wear them together.
Sylvester "Cajun" shirt dress, $375.
E IS FOR EARTH
Sky, sand and sea: summer's all about being at one with nature, and designers are taking earthly fascinations a step further with beautiful earth-inspired prints: Lonely Hearts' incredible clouds on blue sky, Salasai's apocalyptic landscape and Stolen Girlfriends Club's abstract volcanic print, which appears on statement dresses and jeans.
Stolen Girlfriends Club "Drape Cape" dress, $479.
F IS FOR FLATFORMS
Incredibly comfortable and a fresh take on summer footwear (say goodbye, or see you soon, to the wedge), flatforms are essentially platforms given a new name for 2011. Sparked by Prada's popular flatform brogues, this trend has found its way into the New Zealand market at Zambesi, Kathryn Wilson, Moochi and Chaos & Harmony.
G IS FOR GIRLS AS BOYS
Androgyny continues for another season, with tuxedos and suiting borrowed from the boys. Adapt this trend for summer in relaxed tailoring that works for work and play.
Ricochet "Maveric" jacket, $299, and "Maveric" pant, $229.
H IS FOR HAM
If Jason Segal isn't reason enough to see the new Muppets film, the hilarious fashion connection may entice you: Miss Piggy will be a plus-size fashion editor at Vogue Paris. The marketing juggernaut for the film, set to be released here on December 29, is already in action, with an adorable collaboration between the Muppets and hip US brand Opening Ceremony - a small collection featuring Muppet faces on T-shirts, shirts, hoodies and sweaters. We'll have the ruffled dress shirt featuring tiny Miss Piggy faces.
J IS FOR JUMPSUITS
All-in-one offerings for summer range from sophisticated to youthful, with Deborah Sweeney's disco-inspired halterneck jumpsuit, Huffer's youthful printed overalls and Glassons' various options in block colour shades.
K IS FOR KATE MIDDLETON EFFECT
One of the predictions before the most recent Spring 2012 fashion week circuit in New York, London, Milan and Paris was the effect Kate Middleton would have on the runways, with a predicted demure, ladylike (and possibly boring) take on fashion. Her influence was debatable, but Louis Vuitton's cupcake dresses, candy pastels and broderie anglaise lace seemed fitting for a fairytale princess.
L IS FOR LINEN
The perfect warm weather fabric that's in almost every New Zealand designer's summer collection - casual lightweight linen dresses at Twenty-seven Names, blazer and trousers at Salasai, linen cotton skirts at Karen Walker, jumpsuits and high-waisted shorts at Penny Sage and relaxed summer suiting at Kate Sylvester.
Twenty-seven Names "Wooden Ships" dress, $450.
M IS FOR MIDI
Or is it for maxi? Hemlines loiter below the knee for summer, with demure midi and ankle-grazing lengths. Although that's no excuse to bring out your favourite hippie-inspired maxi dress; this summer it's a far more subtle and glamorous take on length, with long skirts in flowing fabrics the nicest way to do it.
N IS FOR NOSTALGIA
Fashion looking back in time isn't a new thing, but this season there are various decades bubbling away as current favourites: the Modish 60s (think shift dresses, pop colours and catseye sunglasses), the properly dressed 40s (pencil skirts, a penchant for "boozy" colours and accessories) and the 90s (hyper-colour, grungey florals and spaghetti strap dresses).
Helen Cherry "Charley" shift dress, $449.
O IS FOR ON HOLIDAY
The most obvious summer trend: tropical prints, whether it be retro Hawaiian shirt prints, tropical botanicals or summery citrus tones. Even if you're having a suburban summer, your dress will make you feel, or at least look, like you're at a beach resort.
P IS FOR PALAZZO PANTS
The perfect pant is wide, breezy and high-waisted for summer, as seen at Cybele (chic black silk crepe de chine), Trelise Cooper (in red or blue silk chiffon) and Stolen Girlfriends Club (sheer chiffon printed with artist Karl Maughan's blooming garden). This is a style that works best when it's worn simply, with a plain white T-shirt and the perfect complement to all those flatforms (see F).
Q IS FOR QUESTION
The question on every fashion insider's mind: who will take over at Dior? At the time we went to print, Galliano's successor still hadn't been announced, but Marc Jacobs is rumoured to be the frontrunner.
R IS FOR RETRO
Trelise Cooper's retro-inspired 1950s polka dot swimsuit, part of the Glassons Breast Cancer Research Trust Cure Shop collection, is the swimsuit of summer 2011.
S IS FOR SPORTSWEAR
Fashion draws inspiration from the field, with a subtle collegiate feel - think varsity jackets (Huffer), uniform detail (Standard Issue), running shorts (Ruby) and training sweatshirts (Karen Walker). As a trend, this sportswear influence is set to get even stronger come winter, so is a sensible one to buy into. For a very simple way to add a touch of sportiness, we like local T-shirt brand AS Colour's classic Raglan tees.
T IS FOR TOUCH IT
Fabrics that beg to be touched - and not just the typical cashmere or silk - provide an interesting wardrobe play for summer, from Kate Sylvester's beautiful appliqued silk flowers on tees and dresses, Andrea Moore's tiered laser-cut heart ruffles, and Zambesi's hand-embroidered linen.
Kate Sylvester "Maret" dress, $725.
U IS FOR UNEXPECTED COLOUR
Traditional summer colour gets another go, but it's the unexpected shades that are stand out: dirty green at Alexandra Owen, juicy melon at Standard Issue, orange lace at Karen Walker and mustard at Sherie Muijs.
Standard Issue "You Compleat Me" skirt, $298, and cami, $139.
V IS FOR VERSACE REVIVAL
One more month to wait until the anticipated Versace for H&M collection arrives in stores. You'll be lucky to get your hands on any of it here - unless you scour eBay - but the influence of the Italian fashion house is being seen once again. Think statement, baroque prints and scarves, and a La Dolce Vita-inspired, non-apologetic approach to sartorial opulence. Viva Italia!
W IS FOR WASHED OUT
Sundrenched palettes that look as though they've faded from being outside for too long have proven popular - think classic white, muted pastels and creams. Ruby and Lonely Hearts' summer collections are wonderful examples of this, with washed-out, sun-faded shades matched with relaxed silhouettes.
X IS FOR X-RATED
Kate Sylvester's naughty secretary themed show at the Auckland Art Gallery last week looked at the fetish trend that's been popular overseas, albeit in a much more prim, ladylike way. That collection isn't available until next year, so how to do it for summer? Potentially X-rated sheer fabric, so popular you'll find it in every store you enter, will do the trick.
Y IS FOR YELLOW
Sunny yellow, the (literal) shade of summer, will brighten everyone's day.
Carlson Silk T-shirt, $209, and "Vacation" skirt, $399.
Z IS FOR ZOOLANDER
Possibly the best fashion film ever made, Zoolander is reportedly getting a sequel. Rewatch the original 2001 film - which follows a brainwashed male model - over summer, for a healthy reminder of the occasional absurdity of fashion.
Stockists: Carlson (09) 361 2137, David Lawrence (09) 520 2931, Helen Cherry (09) 524 6844, Kate Sylvester (09) 524 8872, Ricochet (09) 529 2563, Stolen Girlfriends Club (09) 358 1191, Standard Issue (09) 366 0558, Sylvester (09) 524 8872, Twenty-seven Names (04) 499 4300.