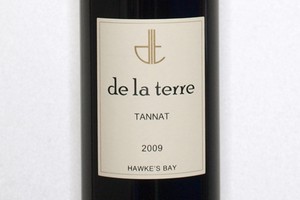 This may be a precarious time to experiment and deviate from the tried and true, so those willing to chance their arm and, probably, the patience of their bank manager, deserve our attention.
When was the last time you bought a bottle of New Zealand-grown dolcetto or tannat?
So they're not top-of-mind for most wine consumers and are unlikely to have prime position at your local wine merchant's.
Tannat has its origins in south-west France - the Madiran region. Renowned for its dark colour and thick skin, it bears extremely high levels of tannin. Some medical researchers believe the antioxidant properties associated with the soaring tannin levels are responsible for reduced levels of cholesterol and heart disease. This is wonderful news for those looking for confirmation to back up their red wine obsession and regular intake.
Tannat is something of a beast as a variety, big being the operative word.
It is big in flavour, colour and tannins and also, unfortunately, acidity. This is a problem for the winemaker who must do an acute balancing act to ensure the wine doesn't need a lifetime in the bottle before being pleasant enough to drink.
The Havelock North vineyard of De La Terre has been nurtured in such a way that the grapes have produced a wine of precision and excellence - no doubt aided by clever and sensitive winemaking. It's worth trying and could have genuine medicinal value.
Meanwhile, Matakana's Heron's Flight Vineyard has developed a reputation for Italian styles such as sangiovese and the lighter red, dolcetto.
Owner David Hoskins originally concentrated on cabernet sauvignon and merlots but found changing weather patterns made the Bordeaux-style grapes difficult to fully ripen and he had fallen in love with Italian wines. He says he spends a lot of time trying to persuade New Zealand wine lovers to show some sense of adventure and try something different.
"Dolcetto is so foreign as a grape variety people are unlikely to try it, so we're making it in a more user-friendly style." It can be difficult to source, being mostly is sold through the popular Heron's Flight vineyard restaurant but, like the tannat, it is well worth seeking out.
Recommended
2009 De La Terre Tannat, $50
With a rich, vibrant, red colour, this is a big, youthful, fruity wine with spicy aromas and a whiff of raspberry and blackcurrant. It has luscious seductive fruit flavours that are not overly aggressive but with a twist of oak which makes this a bit different.
2008 Heron's Flight Dolcetto, $39
A full-bodied, rich wine with ripe tannins and lively red fruit characters wrapped up in creamy oak. A lot going on here, aromas of red jubes, blackberries and red currants with small hints of spice and a whisper of liquorice.