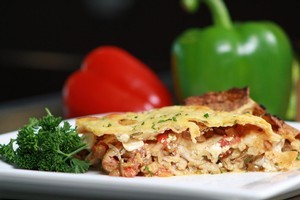 Salsa
½ red capsicum, finely diced
½ green capsicum, finely diced
½ yellow capsicum, finely diced
1 green chilli, deseeded and finely diced
½ lemon, zest
¼ cup aged balsamic vinegar
¼ cup Olivado Macadamia Nut Oil
1 ½ tsp Colman's Dijon Mustard
1 small handful coriander, roughly chopped
Sea salt and pepper
1 Mix all of the ingredients then season to taste. Leave to infuse flavours for as long as possible. For ultimate flavour store in an airtight container over night before use.
Chicken
2 cups cooked skinless shredded chicken
1 onion, finely diced
1 x 400g canned whole peeled tomatoes
2 tbsp Olivado Avocado Oil
3 NZ garlic cloves, crushed
1 cup lentils
1 cup chickpeas
Sea salt and pepper
3 large spinach wraps
250g Country Goodness Cottage Cheese
1 ½ cup Mainland Egmont cheese
1 Preheat oven 180ºC.
2 Heat oil in medium heat pan. Saute onion and garlic until they become translucent, approximately 3 minutes. Do not brown.
3 Add tomatoes and bring to the boil. Reduce heat. Add lentils and chickpeas, season to taste.
4 Spray oven dish with avocado oil spray. Line with 1 wrap, spoon over half of tomato mixture, scatter 1 cup of chicken, lightly season, spoon over half of salsa mix. Spread over half of cottage cheese. Then repeat this process.
5 Finish with a wrap to seal and top with grated cheese. Into the oven for 25-30 minutes.