Kelly Young is inspired by the flavours of India and Mexico.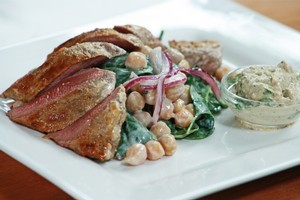 Tandoori lamb with borani salad and baba ghanoush
4 lamb fillets
2 NZ garlic cloves, roughly chopped
1 onion, roughly chopped
½ cup Fresh 'n Fruity Greek Style Lite Yogurt
¼ tsp garam masala
¼ tsp ground coriander
¼ ground cumin
¼ tsp paprika
½ tsp chilli powder
Splash of Olivado High Heat Oil
1 In a mortar and pestle grind onion and garlic. Add 1 tbsp water to form a paste. Pour onion mix into a shallow dish and add the rest of the ingredients and mix well. Cover lamb fillets with marinade and refrigerate for at least two hours - overnight is the best.
2 Once marinated, remove from fridge to bring lamb up to room temperature. Preheat oven to 180ºC. Wipe excess marinade off lamb fillets. Heat a splash of oil in a medium-heat pan and sear both sides of lamb for 1-2 minutes until browned. Lightly spread with a tsp of marinade and place on an oven rack to finish for roughly 6-8 minutes. You want to cook the lamb to medium rare but timing depends on the size of the fillets.
3 Once cooked, remove from oven and rest for 4 minutes. Slice just before serving.
Borani salad (spinach, chickpea and yogurt salad)
1 cup chickpeas, soaked & drained
½ red onion, finely diced
½ cup fresh Italian parsley, roughly chopped
Zest of ½ lemon
Juice of 1 lemon
½ tsp ground cumin
2 tbsp fresh mint, thinly sliced
3 tbsp Olivado Macadamia Nut Oil
4 tbsp Fresh 'n Fruity Greek Style Lite Yogurt
1 ½ cups fresh spinach
Sea salt
1 Mix chickpeas, red onion and parsley.
2 In another bowl mix lemon zest, juice, mint, oil, yogurt and cumin and whisk well. Add dressing to the chickpeas mixture.
3 When ready to serve mix through the washed spinach leaves.
Baba ghanoush (eggplant dip/sauce)
2 eggplants
¼ cup tahini paste
¼ cup lemon juice
2 tbsp Olivado Macadamia Oil
1 tsp Colman's Wholegrain Mustard
1 Preheat oven to 200ºC. Prick eggplants with a fork and bake for 30-40 minutes.
2 Once eggplant is cooked, dip in cold water. The skin should peel off easily, then place in a medium bowl with the rest of the ingredients and blend with a hand whizz.
3 Season to taste. Serve the sliced lamb on the borani salad with a dollop of baba ghanoush and some pita bread.
Watch and win
Watch The Chef's Apprentice, answer the question from each week's episode and be in to win a $5000 package of Fisher & Paykel appliances of your choice. Each entrant will also go in the weekly draw to win prizes from Breville and McGregor's gardening supplies. This week's Breville prize is the BSB510 stick mixer.
To enter visit winwithheraldon sunday.co.nz. Enter your details and answer the question below:
Week 11: What is the core vegetable ingredient for baba ghanoush?
* The Chef's Apprentice plays Sunday on Prime at 6.30pm.