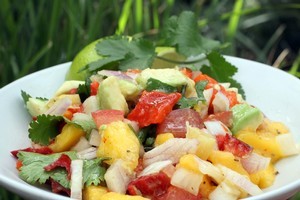 Avocados are superb salsa ingredients. Their creamy green character and smooth texture is enhanced with colour and taste when combined with stronger flavours.
Finely dice:
2 fresh mangos
2 peeled roasted red peppers
2 avocados
2 ripe tomatoes
1 red chilli
1 quarter slice of preserved lemon (check out the recipe here)
1. Finely chop half a cup of fresh mint and coriander.
2. Mix all of the above together with avocado oil, lime or lemon juice and a splash of fish sauce to bind together.
3. Salsa should be served fresh but letting this sit for half an hour will allow the flavours to marry.
4. This is brilliant on freshly pan-fried, grilled or barbecued fish. You could expand it by marinating some fresh fish in lemon juice for a couple of hours, drain off the lemon, mix the fish through this salsa and present it on a bed of crispy lettuce, such as iceberg or cos, torn into bite sized pieces. A very summer meal.