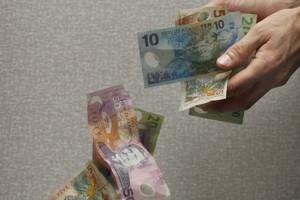 In some circles it's becoming increasingly common for couples getting married to ask guests to give money rather than physical gifts as wedding presents. A relatively new phenomenon, it's not one that everybody is comfortable with. Some people consider it mercenary; others think it's tacky and vulgar.
The happy couple themselves don't always feel totally at ease with soliciting money either. They may resort to corny poetry in an attempt to soften the message and make it more palatable to their guests. These little poems are intended to make the request seem more bridal and less like a ransom note but really they just underscore the fact it's a financial transaction.
There's: If you were thinking of giving a gift, to help us on our way
A gift of cash towards our house would really make our day.
And: Because at first we lived in sin
We've got the sheets and a rubbish bin.
A gift from you would be swell
But we'd prefer a donation to our wishing well.
Some couples have a wishing well at the reception as a place for guests to deposit envelopes hopefully stuffed with money. Wishing wells are often described as "a tasteful way" for guests to transfer cold hard cash but traditionalists would argue there's no convincing way to disguise such a pecuniary prop.
To further complicate matters, there have been stories about bar staff and even guests making unauthorised withdrawals from the wishing well during the course of the event.
Suggesting guests contribute to a travel fund - possibly to finance their honeymoon - is growing in popularity too. To me it seems a more graceful option than extracting cash from guests at the reception but it still has inherent difficulties.
There's always the risk that the travel company involved will go out of business and the sum of money gathered will be lost. To avoid this, when I was invited to contribute to a honeymoon fund I posted my cheque directly to the bride and groom so I could be sure they received it.
The question of how much money to give is a vexing one. The theory of giving whatever amount you'd have spent on a gift has its flaws. Canny shoppers who feel good about giving, say, a one-hundred-dollar vase that they sourced for half price may feel mean about donating just $50 to the couple.
When I donated cash in lieu of a wedding gift I gave about three times what I imagined I'd have spent on a gift for fear of not appearing suitably generous. I certainly felt the pressure to perform.
Some guests look at the expected cash donation as an opportunity to effectively 'pay' for their meal and drinks at the reception. In order to reach an appropriate figure they consider factors such as what they might typically spend on a night out and project how much they're likely to drink. Such a cold and clinical approach is understandable once a couple forces guests to attach a monetary value to the occasion.
Ultimately, I think we're going to have to get used to this new style of dollars-and-cents-driven giving. What the happy couple wants should be what the happy couple receives. At least it'll save them the bother of selling unwanted gifts on Trade Me. And before you ask: the answer is no - you won't get a refund if they split up.
Of course, you could always take your cue from William and Kate and request that guests make donations to your favourite charities rather than needlessly buy gifts.
As well as being ethical and absolutely stylish, it averts that oft-cited problem of receiving six toasters and simultaneously frees you from exposure to your guests' potentially questionable taste in gifts. I will so be doing that for my next wedding.