Keep kids' rooms neat and tidy with an easy-to-make toy box, says Greig Morgan.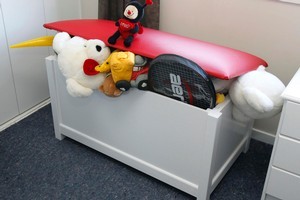 A friend's daughter, Olivia, had just had her 5th birthday and toys were starting to spill all over her room. A custom-made toy box seemed to be the answer, one made to complement her room. They're simple things to create and, by adding some upholstery to the lid, Olivia now has a storage box that will double as a bench seat.
Step 1
Take your four legs, cut to length at 500mm. Cut eight cleats at 450mm. On one leg, glue and fix two cleats to a corner using 25mm screws, keeping flush with the top of the leg. Repeat the process with the other legs. These cleats will provide fixture points for the front, back and sides of the box.
Step 2
Cut your 12mm MDF to size (two at 850mm x 450mm) for the front and back panels. Fix panels to legs, making sure all fixtures are made on the inside of the box. Measure and cut two more cleats, then glue and fix flush along the bottom of the box.
Step 3
Cut two side panels of 12mm MDF at 450 x 450mm. Fix each panel to a cleat from inside. Add a cleat flush along the bottom to give the bottom board something to sit on. At this stage your box is assembled. Measure diagonally corner to corner to make sure the box is square.
Step 4
Measure, cut and fit the bottom board of 6mm MDF. This done, your box is ready to paint.
Step 5
With 12mm MDF, measure and cut 950mm x 545mm for the lid. Now you are ready for the upholstery. Using contact adhesive, you can glue the foam to the lid and trim off any excess.
Lay your fabric over the top of the foam and fold it over to the underside of lid. Pull fabric tight and start stapling the middle sections. Then, applying the same amount of tension, staple your way around the other edges, stopping about 60mm from corners. Last, fold and staple the fabric at each corner.
Step 6
Screw a butt hinge on each leg, then make sure the lid has an even overlap. Fix the other side of each hinge to the lid. You can use a small chain to stop the lid from opening too far. I used a leftover piece of beading and fixed one screw to pivot up and down, to hold the lid up.
Materials
50x50mm dressed pine x 4 @ 500mm (legs)
18x18mm beading (cleats) x 5.1mtrs @ 450mm (for legs)
18x18mm beading x2 @ 850mm (for bottom support)
12mm MDF x 4 @1200x600mm (front, back, side & lid)
6mm MDF x 1 @ 1200x600mm (bottom)
Butt hinge 40x25mm x 2
Screws for hinges 18mm
Screws for cleats 25mm
Foam padding 60mm thick to suit size of lid
Enough material for padding & finishing off under lid
Contact glue /PVA wood glue
Wall staples 8mm or tacks to fix down fabric
Paint
Tools
Hand saw/skill saw
Screw gun
Tape measure
Sharp scissors
Wall stapler
* Greig Morgan is a cabinetmaker by trade who now runs his own landscaping business, GT Landscapes.