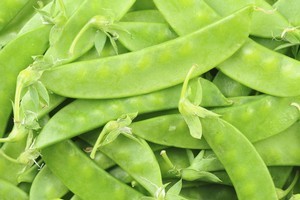 How to grow them:
There are a few garden plants which prefer a cool root run (their roots in the shade, their heads in the sun) and peas fall into this category - so plant your peas well before summer.
Peas appreciate well-dug, moist, friable soil, with compost, and a little dolomite.
Although they are nitrogen fixers, they appreciate fertile soil, with straw mulch to keep their roots cool.
Peas require mesh to wind their tendrils into.
Establish your pea structure first, before planting.
I set up a 2m-high mesh panel, facing north with stakes at either side.
Sow your peas on the south side of the panel, ensuring they will grow towards the sun and up the mesh.
Lay bird netting over your peas and sprinkle pet friendly snail bait around them to avoid disappointment.
In the kitchen:
If you've grown your own peas, pick them young while they're sweet and juicy.
Sugarsnap and snow peas can be eaten pods and all, so they are a lovely crunchy addition to salad, or tossed in a wok.