Taking to the stands leaves with a taste for more rugby hysteria.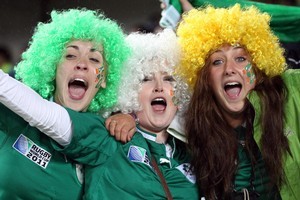 This Rugby World Cup thingy has been a bit of a laugh, hasn't it?
I was briefly worried that vast hordes of uncouth tourists would make it difficult to enjoy a civilised pint at one of the many fine hostelries I patronise. But it's actually been really enjoyable getting to meet visitors and to get together at Eden Park to sing cruel songs to each other.
The main RWC issues have revolved around Dan Carter's groin, sensitive Australians complaining of unsporting behaviour and - shock, horror - English rugby players making fools of themselves in public.
But the best bits for me have been in the stands. The atmosphere at the Australia-Ireland game made the hairs stand up on the back of the neck as the delirious Irish realised the game was going their way.
The Ockers were a bit mute, though, and a lonely cry of "Aussie, Aussie" was met with a resounding "ha, ha, ha" from the green-clad revellers.
And all of this in an atmosphere that was positively sodden with drink.
For all the health lobby's bleatings that we are unable to cope with alcohol in a polite manner, arrests have been rare during the RWC, despite the fact that booze has been easily available at the grounds and the fanzones.
The only problem I had with Eden Park was that in one game I was stuck in temporary seating in the East Stand, which involved a hideous climb of 132 steps to regain my seat after stocking up on the sponsor's beverage. By the time I'd done this twice in the match, it amounted to more exercise that I'd done in the previous 12 months.
Perhaps we're actually better at dealing with alcohol than some people give us credit for, or maybe it's just that we're putting on a good front for our foreign visitors.
Whichever it is, it's making the country a much more interesting place to be. The visitors seem to be enjoying themselves, too. I was talking to a Welshman who was raving about Auckland's bars and restaurants, declaring himself to be in love with snapper and sauvignon blanc. If only we could have a tournament like this every year.
* Don Kavanagh has been involved in the hospitality trade for more than 25 years and is the editor of Hospitality magazine.