The Designers Institute 2011 Best Design Awards have highlighted some real Auckland winners.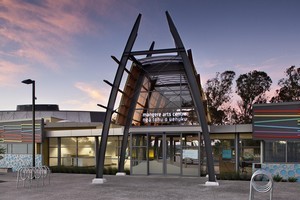 1. Hobsonville Pt Park
Hobsonville Pt Park, designed by Isthmus Studio, is the first of a network of reserves to be built on the former air force base which will eventually house a new community of about 10,000. Within the park a unique Forest Floor playground was designed with bespoke play elements. The designers used sustainably sourced materials - eco sourced plants, steel, timber, stone and concrete - to construct an infrastructure of paths, plazas, weirs and walls. This entry gained a gold award and, said the judges, "was a uniquely New Zealand park design that crosses the divide between playground and sculpture".
2. Te Puru Bridge
The bridge, also designed by Isthmus Studio, creates a key cycling and pedestrian link between Omana Regional Park and Te Puru along the Beachlands-Maraetai Walkway. Old piles were mixed with new piles in its construction and the judges said the bridge, which gained a silver award was "a balanced combination of tradition and contemporary construction; a timeless solution".
3. Manukau Public Library
Two former libraries were merged into a former bank and office building to become the new Manukau Public Library. The children's area is the hub of the new library and was created as a fun space for families to enjoy. Overhead, a colour changing LED "noughts and crosses" board is a beacon that attracts young bookworms, and colourful suspended light fittings in random zig-zag patterns mark out the children's collection. The bright attractive facade turns into a multicoloured lantern at night. The children's area, designed by Creative Spaces, won a Gold Award.
4. The Mangere Arts Centre
Nga Tohu o Uenuku is a community arts centre which aims to attract and engage local young people. The performance area is conceived as a flexible, flat floor "black box" able to be configured in a number of different formats. One side of the theatre is able to be opened up to the foyer which in turn can be opened up to an external courtyard to provide a variety of spaces for performances and visual displays.