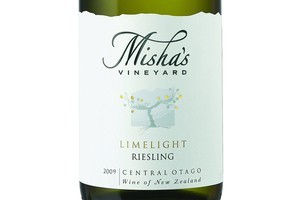 A prediction. A relative new kid on the Central Otago block, Misha's Vineyard, will be the next big thing. Why? Because the wines are consistently so very good, the owners Misha and Andy Wilkinson are possessed with a desire to leave nothing to chance, their vineyard site is lovingly tended and they have Olly Masters, formerly of Martinborough's Ata Rangi, one of the smartest winemakers in the country.
It has been a stellar rise since their first 100 cases of pinot noir in 2007. Now into their fifth commercial vintage, they export to 11 markets and are especially popular in Asia, a burgeoning region and often difficult to crack.
Their 26ha vineyard on the edge of Lake Dunstan in the Bendigo area is planted mainly in pinot noir with some pinot gris, riesling, sauvignon blanc and gewurtztraminer. The wines, which come from vines planted in 2004, have started to show a remarkable level of maturity. Especially impressive is the 2010 riesling, in which, says winemaker Masters, "I'm looking for purity". His pinot gris also has all the hallmarks of greatness.
"It's one of my favourite wines to make, there's quite a lot of it out there and they're all getting better all the time. For us a bit of vine age certainly helps."
Called "Dress circle", this wine has a strong marzipan, dry herb and pear nose with a pleasant lolly, candy, oily finish and is beautifully weighted and balanced.
A lot of pinot gris can suffer from being a tad insipid and lacking character and flavour. Those who have shunned this varietal may well be pleasantly surprised by the magic worked on Misha's pinot gris.
But it was the gewurtztraminer that was the head-turning wine for a group of wine buffs at a recent tasting. Even those normally unenthusiastic about gewurtztraminer were gushing with praise, quaffing the glass and trying not to look too greedy in seeking a refill.
"Our style has a riesling-like attitude to it," says Masters.
This means you get the usual rose petal, lychee, pink grapefruit and nougat flavours with a spike of cutting, racy freshness. It finishes dry.
It's early days yet for the pinot noir, but expect it to be the ultimate jewel in Misha's crown.
Recommended
2010 Misha's Vineyard Limelight Riesling, $26
A lovely, medium dry and not overly sharp riesling. Elegant, with gentle aromas of crushed lime, flint, five spice, white flowers and candyfloss. Very mellow.
2009 Misha's Vineyard The High Note Pinot Noir, $45
Earthy and herbal with a whiff of chocolate, it has great structure and fruit tannin. Already good, but given a bit more time it will reward patience.