Catering for opposite tastes in décor was made easier for a Hawkes Bay couple by enlisting an interior designer.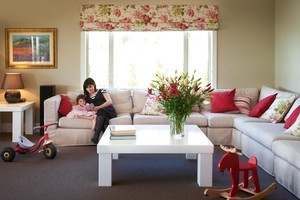 When Hawkes Bay couple Rob and Amanda Liddle embarked on building their dream home, choosing the decor was always going to be a problem.
"Rob loves browns while I like bright colours," says Amanda. "He likes square and I like round." Rob, a builder and renovation specialist, was in charge of building the home on an elevated, sloping site overlooking Te Mata Peak, but it was Amanda's job to decorate.
While she knew the sort of look she was after, she didn't know how to pull it off - and keep Rob happy. So she was delighted when an interior designer friend, Alex Goodyer, offered to help.
"She talked me through everything," says Amanda. "I knew what I liked and what I didn't, but I didn't know how to put it together."
As part of a strategy to combine Amanda and Rob's opposing styles, Alex helped them select a dark brown carpet for its depth of colour and a warm colour for the walls to complement Rob's beloved brown leather sofas. Added to that, though, was a vibrant mix of pinks, reds, greens and white-patterned textiles to soften the browns and add accents.
Alex also encouraged Amanda to use stripes, florals and vintage prints in the home's blinds, curtains and lampshades to create a sense of cohesion. "It's scary going bright, but I wanted character, rather than your standard show home," says Amanda. "We wanted the home to feel lived in."
And that's a look that suits the five-bedroom farmhouse-style home.
With a 7000sq m section, there is plenty of room for a swimming pool and pool house, and space for children Hannah, 3, Ginny, 18 months, and baby Sam to play outside.
"We wanted a warm, loving home where you feel like you could take off your shoes, put your feet up on the sofa and relax," says Amanda.
The house has large windows but Alex was able to minimise cost of with some clever thinking. In the main bedroom the blinds were done in a more expensive striped fabric but on the sliding doors, a cheaper linen was lined with the same stripe. Leftover fabric from the curtains was used to make cushions for the living areas, and off-cuts were recycled into light shades.
"I'd always thought interior designers were a huge cost and a luxury," says Amanda. "But we saved money in the long run."
Style tips
Large canvas: If you want to use bold prints, employ them in bigger rooms, as strong patterns can overpower a small space and make it look even smaller.
Size matters: If you are using prints, take home as big a fabric sample as possible to get a feel for how it suits a room. "This is particularly important if you're doing a blind for a big window," says Amanda.
Simple plan: Don't get carried away with prints. Pick three or four complementary prints and use them throughout. Amanda and interior designer Alex Goodyer worked florals into most rooms, along with bright accent colours.
Leanne Moore is the editor of Your Home & Garden. For the full story on this house see the latest issue of the magazine.