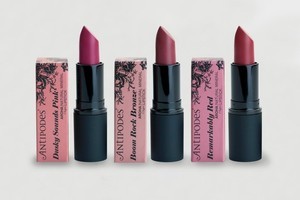 A good natural lipstick is hard to find, especially in bolder shades, so the arrival of the Aroha collection from Antipodes will please those looking for a rich red.
The theory is that women consume an average of two kilograms of lipstick over their lifetime, through drinking, eating, kissing and licking their lips, so not surprisingly many want to know what is in their lipsticks. They are coloured variously with dyes and pigments, synthetic or natural, including minerals and ultramarines. Though scare stories about lead, especially in red lipstick, have been endemic on the internet for years, official tests have found only trace elements in mainstream brands. The United States Federal Drug Administration says a recent round of testing raised no safety concerns, although it will widen the monitoring of brands.
Lipsticks usually contain preservatives and may contain mineral oils, parabens and animal-based material, so if these are things you wish to avoid check the ingredient list or seek out a credible natural brand - though vegans beware, beeswax can be used here also.
Mineral makeup brands often promote their lipsticks as natural, and though this should be so in terms of colourants used it is not always the case for all ingredients.
Personally, I happily use any lipstick that catches my eye, but as with a lot of skincare I like to explore the effectiveness of simpler formulations, figuring a transparent less-is-more approach will do no harm and potentially considerable good, so I'm pleased to report that if you want a good natural lipstick they are getting easier to find. Antipodes uses avocado oil and earth minerals in its formulations, which are the first cosmetics from the company. There are three lipstick shades, each with a gently matte finish and priced at $42. The colours are named after the New Zealand landscape, the red being a homage to Queenstown, called Remarkably Red, then there's Dusky Sounds Pink and Boom Rock Bronze.
Two other New Zealand natural brands worth seeking out are Living Nature and Karren Murrell. Murrell's lipsticks are especially moisturising and come in four shades priced at $30, in a biodegradable cornstarch canister. The warm nude called Cordovan Natural is a stand-out.
Living Nature lipsticks are sheerer and come in 10 mostly muted shades for $39.50. They contain vegetable waxes and are hand poured in Kerikeri.
Staying local, Tauranga-based Bella Vi mineral makeup company has a big colour range of lipsticks and glosses.
Problem licked
So now you've found a good lipstick colour, how to keep it firmly anchored to your lips?
Lip liners are usually applied to the lip contour or a lip colour base and do help, but for those really troubled by colour bleeding into the little lines on the outside of the lips - and who don't fancy fillers - then a secret lip liner that goes on the outside edge is a trick worth trying.
There aren't many of these out there, so a German-made one commissioned by a savvy New Zealand distributor has caught our eye.
It's called No Bleeding Lips and costs $20. Stockists include Smith & Caughey's and selected pharmacies.
Matte about it
This season's exuberant colours look stylish offset with matte nails and lips. Modern matte isn't flat and dull, so don't fear a faded finish.
Chanel have the trend covered in their Rouge Allure Velvet lipsticks and the new nail Top Coat Velvet. Try pairing the Velvet red lipstick La Fascinante with the rich red nail colour called Pirate. The lipsticks costs $59 and the nail products $47.
A cheaper way to go is Rimmel's Pro Matte Finish nail top coat at $11.95. There are other mattifiers out there, but you'll struggle to find one cheaper. Transforming your existing shiny polishes with one matte topcoat is also better value than buying extra polishes in a matte finish.
To get nails in good nick before a statement polish or simply for a healthy natural look, try O.P.I Matte Nail Envy Strengthener, $24.95. This conditioning coat is non-shiny, making it suitable for men as well as women who are troubled by brittle nails.