Potions to soothe the soul.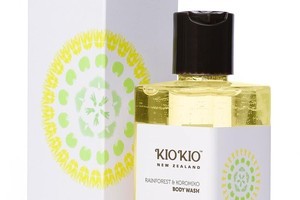 1. Evolu Smoothing Body Lotion, with avocado, lime, lemon and kanuka oils, refines, softens and hydrates dry skin, $29.95.
2. Emotional Rescue Body Lotion uses New Zealand plant essences in the belief that the natural skincare product will not only hydrate skin, but also help restore emotional balance. This one targets stress; others containing different essences are for babies, men's wellness needs and sleep and weight issues, $20.40 each.
3. Kio Kio Rainforest and Koromiko Body Wash revives you naturally with the fresh smell of native bush after a misting of rain. Or try the gardenia Tiare scent, $35 each.
4. Elizabeth Arden Green Tea Camellia eau de toilette adds intriguing warm floral notes to the original crisp Green Tea scent.
On counter from Monday, priced from $52 for 50ml.
5. Wei Chinese Rose Foaming Cleanser couples concepts of Chinese herbal beauty care with modern skincare in this rose and mandarin peel infusion priced at $58, exclusive to Mecca.
6. Weleda Wild Rose Creamy Body Wash is a botanical bathing beauty for $19.99, made with organic rosehip oil for skin conditioning and rose essential oil for fragrance.Or try the citrusy Sea Buckthorn wash.