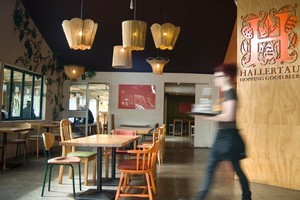 Once bitten, a restaurant reviewer should not really be twice shy. A bad place can come good, after all. Sometimes there may even be a cause-and-effect relationship between a bad review and an improvement, although I don't flatter myself that it's a common occurrence.
But it was with some apprehension that I answered a suggestion to check out this West Auckland place, which describes itself as a "brewbar".
I'd been there almost six years ago, when it was newly open and it was a frightening experience: truculent service and indifferent food.
The most memorable moment was a baked eggplant that answered to only half of that two-word description. Even when the waitress, after some persuasion, accepted that it was raw, she seemed to imply that it was somehow our fault. The beer was good, though.
Well, the beer's still good and much more besides.
We arrived there for a Sunday lunch on one of those head-clearingly perfect days that followed what we will all remember as the Auckland blizzard and my old memories evaporated as we were shown by one of the very efficient and pleasant waitresses to a sun-drenched table on the sheltered terrace.
This gave us an excellent view of the passing cavalcade of Westie motoring: a Ford Popular with what sounded like a V8 motor; a Prefect with a paint job of flames licking down the side; a pair of Harleys polished to within an inch of their lives. The Professor, who I suspect has a soft spot for petrolheads, caught me shaking my head.
"Don't be anti-Westist," she chided me.
"It's not anti-Westist," I corrected her. "It's Westist. If you are ageist, you sneer at old people, so - if I were sneering - I would be being Westist."
"What do feminists sneer at, then?" she said triumphantly and I reflected on how irritating it is when someone is simultaneously illogical and right.
So we waited. And waited. I checked my watch to see whether I had become eligible for National Superannuation since we arrived before flagging down a waitress. She brought beer and water, took our order. And we waited.
And waited. I suspect you sense a theme emerging here: that Hallertau is seriously understaffed, or overpopulated, or both. It was exactly an hour after arrival that our food landed. It doesn't do to be in a hurry over Sunday lunch, I know, particularly when a couple of nice guitarists are quietly working their way through Dylan's and The Eagles' back pages, but a wait of an hour suggested a serious mismatch between the relative capacities of restaurant and kitchen.
But the food banished all memories of raw eggplant. Four arancini (crumbed risotto balls), packed with finely shredded leek and a local goat cheese, were quite delicious. A roast vegetable salad with haloumi was finished with what I think was quinoa, which lifted an ordinary dish into something quite special. I was lured to the free-range pork ribs because the waitress said that they were "pretty meaty". They seemed pretty bony to me, which is why they are named after a body part that is all bone. But I'm sure they were meaty as ribs go and they came in an assertive spicy sauce that, to the Professor's consternation, ended up ear-to-ear on my face.
Hallertau, which takes its name from the valley in Bavaria where hops were first grown, owes much of its reputation to its excellent beers and the fruit wines from the associated Pukeko Grove. The beverage list specifies how many standard drinks each selection contains, useful for drivers, and the food menu makes good use of the beers and wine; a mushroom ragout made with coffee-dark black beer was a standout. The food won't win any prizes, although it's a cut above what you expect from a brew bar. They just need to sort out the waiting time and the slightly vague service.
Need to know
Value: $
$ = $20-$40; $$ = 40-60; $$$ = $60+.
(Price guide reflects three courses for one person without drinks.)
Also try:
Hallertau is a one-of-a-kind operation, really, with a rustic feel that puts me in mind of a very pleasant summer lunch at the rightly legendary Mussel Inn in Golden Bay. In the neighbourhood though, are vineyard cafes, such as Soljans, 366 State Highway 16, Kumeu Ph 09 412 5858.