Gill South discovers the uber-tidy desk with no decoration or clutter is not as efficient as she thought.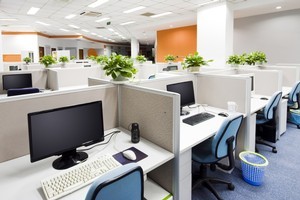 I am sitting at the table I work at in the living room, looking with pleasure every now and again at the vase of cheap but pretty flowers in the centre of the table. As a home worker, I am lucky, says psychologist, Craig Knight (PhD), because I have full empowerment over my surroundings to make it as enriching as I please. I don't have to sit in any tasteless cubicles with corporate motivational admonishments plastered on the walls or a company colour scheme that gives me a headache. Instead I look out to tall trees from my living room, a view I am very fond of.
According to Craig, a psychologist from the University of Exeter, and director of PRISM, Psychological Research into Identity and Space Management, his research has found that plants and art make employees up to 32 per cent more productive.
I have to say I don't notice the pictures on my walls any more. Maybe it's time to freshen them up.
A friend is experimenting with art, leasing different paintings and seeing what she likes, maybe I should be doing this. At Craig's university, when staff were asked what they wanted to see on the walls, they said pictures of Devon and Cornwall. The university had been quite keen to stick up posters proclaiming "ninth best university", but staff didn't want to be reminded about why they were at work, apparently.
Art and plants make a particular difference for people who are in a very sparse environment, a "lean" office where you only have the equipment ready to do the job, a hot-desking situation, for example. Hot-desking, from a psychological point of view, is a nightmare, says Craig.
I find this fascinating. I've always been terribly impressed when I interview chief executives who have barely anything on their desk. I have always thought they are the height of efficiency. But no, they could be more productive if they just plonked a plant on there and put up a Klee print. Craig emphasises people have to be in charge of choosing their art and plants.
Well I am happy to experiment with the art side, but plants, I tell Craig are a no-go. I tend to over or under-water them or an unhappy combination of the two. I'm lucky if I can keep a basil plant alive for a week in the kitchen. Craig, graciously agrees that a vase of flowers will be just as good. And he says that if I become more productive, buying flowers every week is perfectly affordable.
As an independent type, working from home is the best place for me, he says. There is something I must work on, however. The office does have a role as being a place of interchange, a street in the village where you stop and talk to people. This "street" is very hard to replicate when you are working at home, he says.
I need to have "interchange" with people of my own kind, he says. In other words, to exchange ideas with other journalists on a regular basis. Well I'm delighted to hear this, I need no excuse to catch up with my favourite journo mates, something I sometimes see as an indulgence when I have a lot of work on. My social life is about to look up ...
Next week:
OPSM is taking a look at the health of my eyes with their new Digital Retinal Scanners (DRS) which look at the retina at the back of the eye. It can detect glaucoma, diabetes, hypertension, cardiovascular disease, age-related macular degeneration and some forms of cancer.