Miriam Dunningham has lived in Glendowie for 36 years. She tells Catherine Smith why this suburb on the edge of the Tamaki river is so special - in between volunteering for the Rugby World Cup and as a Auckland Wise Guide.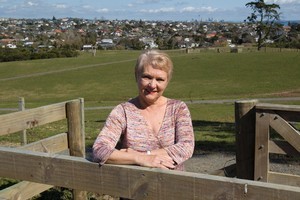 When we were first married we lived out in Hobsonville in the country but my husband really wanted to move back, he's from Panmure. When we bought our little section, Riddell Rd wasn't even curbed and channelled. Most of the houses were for war rehab [people] so they were modest little houses then. People fall in love with the area because it is out on a limb, you don't have to go through here on your way to anywhere else.
The main drawcard in the area for me is Tahuna Torea Reserve - it's 25ha and absolutely stunning. At low tide you can take the 1 1/2km walk to the end of the sandspit. you can see the godwits leave for the Northern Hemisphere. I walk there a lot, it's a destination and there is so much wildlife.
Churchill Park runs beside Riddell Rd and it is 40ha of farm park, with 60 grazing cattle, it's very natural. There are lots of little streams and rivers to walk along. My children spent a lot of time in there building huts - and only the other day, I noticed that there are a couple of new huts that kids have made. I think we're in the start of a flush of new young families - now as we're getting older there is a flood of young people coming back to where they grew up, the area is well served with schools.
My son has moved back here, and young folk have just bought the house next door.
I'm only 15 minutes from Queen St, but I can look out my kitchen window at cows grazing, or at stunning views of the Sky Tower and the city, or out to the Tamaki River.
Karaka Bay is spectacular - again, you'd never believe that it is only 15 minutes from the city. You zig-zag down through the bush. Seventeen chiefs signed the Treaty of Waitangi on that beach in 1840. It's a bit Titirangi-ish. I like to take a book and enjoy the peace and quiet, and watch the Waiheke ferry go back and forth.
The Glendowie foreshore is popular with windsurfers, and all my kids learned to sail at the Glendowie boating club. They go there from nine years up, and it's a great little club. My kids used to head to the river to yacht or to fish for sprats - it's a bit of a hidden secret.
For socialising, there are two options. I go to Fix Cafe at the bottom of Roberta Ave (now it's been renamed Ronnies). Or there's the Churchill Club - a private club for members, set up in the 50s or 40s, and now a "sporting club". But it is very family friendly, there's a quiz night on Thursdays and an outstanding chef, so you get an excellent night of quiz and good food. Plus there's the tennis club.
I've been Wise guiding now for three years, since it was first set up, usually I'm meeting cruise ships in the season, helping the passengers. Now I'm doing Queens Wharf and Festival hosting. It's always a buzz down there. I just love the city, I love Auckland and I'm so proud of Glendowie.
Miriam's picks
Churchill Park: Access from Riddell Rd, Forfar Rd, Athlone Rd.
Tahuna Torea Nature Reserve: Access from the sealed walkway from Riddell Rd, near the Beverly Hills shops, Vista Cres or West Tamaki Rd. Both parks are part of the Point to Point Walk, approximately 7.5km long, from St Heliers Bay to Point England. Allow three to four hours. Whatever your age or fitness, you will be able to enjoy some part of the walk. For maps, instructions and useful information see here.
The Churchill Club Inc: 259 Riddell Rd, Glendowie. Ph (09) 575 6613.
* Wise Guides and, now, more than 5500 RWC volunteers are the face of Auckland and RWC 2011 at the fan zones, matches, airport and more until the tournament ends.