Cybele boutique manager Melissa Ly has a penchant for interesting design. Viva finds out what else she likes.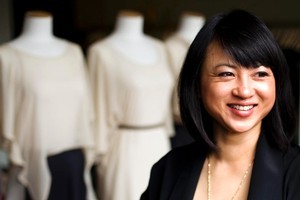 Pop into the Cybele boutique in Ponsonby, and you'll meet Melissa Ly, manager of the store, which opened earlier this year. Previously at Carlson, Ly is a champion of interesting design. She counts Givenchy Couture, Alexander McQueen and Lanvin as favourite designers internationally, "for being progressive with their work", while locally she loves Miss Crabb and Cybele, "for her beautiful prints and interesting cuts". Supporting local designers is something Ly believes Aucklanders get right, but admits that we tend to wear too much black - "myself included." She tells us more about her approach to style.
Who does the best shoes?
I am such a sucker for Costume National. They have an interesting shape, are always understated and such beautiful shoes.
What's the one thing everyone should have in their wardrobe?
A printed piece from Cybele - timeless.
Your favourite shop?
Locally Miss Crabb. Not only does [designer] Kristine create killer clothes, the girls are really sweet too.
What's your fragrance?
At the moment I'm wearing Tresor by Lancome but I love Dior Addict. Anything with vanilla notes is yummy.
What's your beauty essential?
Nail clippers. I find having any fingernails frightening.
Whose wardrobe would you most like to raid?
No need. I'm pretty content with what I have in my wardrobe.
What do you wear to work?
Anything and everything that is Cybele. The girls in the workroom will tell you that I want it all.
What do you wear when you're relaxing at home?
Comfy and cosy clothes go a long way.
Best sartorial advice you ever had?
Trust your instincts. You know pretty much straight away from the moment you put something on whether you love it or not.
Most cherished fashion item?
It's not a fashion item at all. Nearly nine years ago my teacher gave me a tiny Buddha for protection. I have worn it every day ever since. I would be lost without it.
Your personal style quirk?
I don't know if this is considered a style quirk, but I do start hyperventilating when we get new things in store.
Most overrated item in fashion?
For women, it has to be jeans. We have so many other amazing options to pick from when it comes to clothing.
Most underrated item in fashion?
The humble T-shirt.
Who is your ultimate fashion plate?
Jane Birkin and David Bowie in the 1970s. They continue to inspire new attitudes and talent to this day.
Describe the best outfit you've ever worn.
When I was five years old, I had a playsuit that was my most favourite thing to wear in the world. One day my little brother decided that he wanted it but I didn't want to share. After much negotiating with my mum I handed it over with the promise of a new one. We headed down that afternoon to my favourite store Chuckles Childrenswear, only to find that they had sold out. There were a lot of tears!