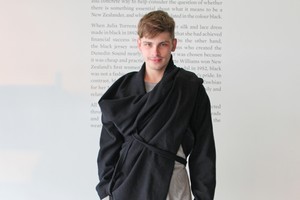 Who's best in black? Viva is pleased to announce the winners of the New Zealand Fashion Museum's Best in Black competition, selected from visitors at the Black in Fashion exhibition.
The competition was designed to find the woman and man who epitomised the New Zealand fashion style of wearing black. Judges Doris De Pont and Dianne Ludwig, of the museum, say many people came along specifically to enter the competition, and had very deliberately and thoughtfully put together their looks with that goal in mind, while other entrants were chance exhibition visitors who stood out for their appealing take on wearing black. The two winners were chosen for the easy and fun way they wore black to create a personal and dynamic look. They are Carla Van Zon and Andrey Sukhomlinov.
Sukholmilnov came in to the exhibition carrying what looked like a black jacket but which actually turned out to be a friend's bathrobe. When invited to enter the competition, he draped, wrapped and tied the bathrobe to create what we felt was a winning look. The judges loved his spontaneous and creative approach to wearing black.
Van Zon's winning look epitomises that very New Zealand blend of comfort and easy style based in black and personalised by her spirit of fun.
The pair both win shopping vouchers from Britomart retailers Curate and Timberland. The Black in Fashion exhibition continues until October 24.
VIP Viva
Kate Sylvester is holding an invitation-only fashion show at the new Auckland Art Gallery next Tuesday night (October 4), and we have a double pass to give away. The show will see next year's autumn/winter collection on the runway (we hear it may be inspired by a certain film starring Maggie Gyllenhaal), and will also mark the debut of Sylvester's collaboration with Millton Wines and a new collection of spectacles.
•To enter the draw to win tickets, send the story of your first Kate Sylvester purchase, plus your name, address and phone number, to vipviva@nzherald.co.nz.
Competition closes October 2, winner notified October 3. One entry per person. Entrants must be over 18, as alcohol will be served at this event.
Not so fast!
Fast fashion expert Ken Watson will talk at the Fashion Industry New Zealand (FINZ) workshop on Friday, offering his views on the future of the industry. A few predictions? "The fast will eat the slow" in increasing numbers, and a focus on lean fashion; creating products that the consumer actually wants. "Producing the wrong products or the right products in the wrong quantities is unsustainable, because of the high cost of disposal." Unsustainability and cheap labour often come up when discussing fast fashion, but Watson believes there is no evidence of any correlation between fast fashion and cheap labour. "One would not make that comparison of Japanese car manufacturers, because of their lower-cost vehicles. Fast fashion companies, like the automotive industry, are applying lean principles to reduce the time to market and cost, whilst increasing agility. In fact, we would argue that fast fashion requires a consistent, well-operated supply chain with process disciplines, which mitigate the use of marginal manufacturers."
As managing director of London-based agency Industry Forum Services, Watson and his team consult to various companies, including "most of the UK High Street", like the Arcadia Group, the company that owns Topshop. It's a company he considers one of the key players in the market,along with Zara and Forever21, "for their speed and responsiveness".
As for a recent Guardian story that claimed that the rising cost of clothes, cotton, labour and transport could signal an end to "cheap chic", Watson believes this is untrue. "Fast fashion, with its speed, lower cost and more efficient use of raw materials, will maintain its competitive advantage. It will continue to be relatively cheaper." But it is certainly a factor affecting the market. "There will be continuing challenges around the fluctuating price of raw materials. Sourcing from China will become increasingly challenging. And online retail will continue to evolve and gain more market share, which will throw up some interesting challenges and opportunities."
* FINZ Global Sourcing workshop, Friday September 30. Registration $175.
Pink (and black) power
Annah Stretton is among several retailers who are offering to donate a slice of the sales price from pink clothes sold during Breast Cancer Awareness Month in October. Her Chameleon by Annah Stretton "Petunia" wrap dress costs $450, with $40 going to breast cancer initiatives. It can also be bought online.
A similar wear-it-several-ways design called The All Black Wrap Dress is available in New Zealand's favourite colour and is reversible for an outfit change into a brighter display.
Power dressing
Designer Andrea Moore is offering tailor-made suits; customers can individualise their suiting by selecting the cut, fabric, lining and buttons. Each three-piece suit features a jacket with pant and skirt, and is made by a talented woman based in Henderson, Auckland. Reflecting the personalised nature of the offer, you can also have your name stitched into the care badge. The "Suit Yourself" range is available from Andrea Moore's Old Bank Arcade store in Wellington and the new High St store in Auckland.
Too cute
Juliette Hogan is now offering her signature pleated skirts (pictured right) in smaller sizes for children. Available from her Ponsonby Rd boutique, they come in blush, sky blue and black, and are $69 each. Ph (09) 360 9347.