We talk to the designer behind burgeoning label Penny Sage.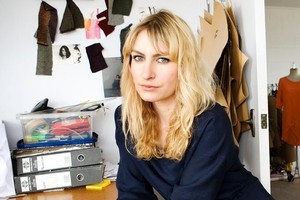 Quietly intelligent with an appreciation for craftsmanship, Penny Sage has come of age with the first full collection from the Auckland-based label.
Designed by Kate Megaw, Penny Sage has had various incarnations since launching in 2006 when Megaw first used the name for her final collection while studying design at Wanganui College of Design. (The name comes from her mum's maiden name, "and I always had an obsession with the name Penny".) She created a series of hand-knitted rompers and long knitted socks (knitwear continues to be her favourite medium; and she has just started working on some new pieces), which were picked up and sold through Miss Crabb.
Megaw also began working with the designer Kristine Crabb; a woman who has continued to act as a sort of mentor. Crabb's popular Auckland boutique has always been a hotbed of emerging, interesting talent, and it was there Megaw met another creative, Shona Lee of DEM Jewellery, with whom she collaborated on DEM Penny Jewellery.
A move to Belgium followed, where she worked for a designer called Christian Wijnants.
"I went to Belgium without any real plan," Megaw explains. "I felt like going there because I had always loved Belgian fashion, and it was such a strange and intriguing place."
After her European stint, Megaw returned to Auckland and recently launched her full Penny Sage collection for spring/summer 2011. It is a beautiful range, titled Golden Blue, and features a sunny palette with a washed-out, lived-in feel and uses natural fabrics like linen, silk and cotton. Megaw had been observing sunsets and other fleeting moments in nature, ideas that informed the range - although she prefers to keep her inspirations to herself. "My inspiration is quite personal and quiet; I tend to keep it to myself so people can have their own ideas when they see my clothes." What she is always inspired by is fabric and experimenting with pattern-making, "seeing what happens when I start making a garment without a fixed idea of what the end result will be".
This approach extends further, with a focus on handcraft that runs throughout the collection: Megaw hand-paints and dyes each piece, concentrating on one garment at a time rather than a production line. The "Bouquet" blouse features a twisted hand-painted floral print at the neckline, while the draped "Dalliance" dress features a washed-out gradient; each one unique. The lookbook, too, touches on the label's nostalgic aesthetic - sweet, grainy shots against wallpaper, captured on film by Natasha Cantwell.
The designers Megaw admires most - "design hero" Dries van Noten and Ann Sofie Black - reflect her own quiet, focused approach to design. "I admire designers who are able to make clothes that are both wearable and experimental. [They] are involved in the whole process of making a garment. You can see it in the fabrics they use, the cut of the garment and the craftsmanship."
* Penny Sage is stocked at Miss Crabb (Auckland) and The Service Depot (Wellington).