Find more restaurant reviews with our Google map
Herald on Sunday Rating: 3.5/5
Address: 5 Lorne Street
Phone: 09 379 4040
Website: faro.co.nz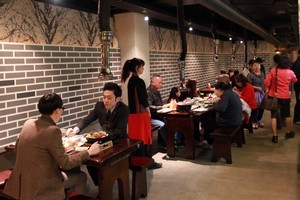 If you think that Korean food is not the subtlest of the Asian cuisines you probably have not eaten Mongolian food. Korean may lack the nuance of Vietnamese or Thai but its combination of vinegar and spice is very palatable, I reckon.
The Professor does not share this view, which is why I picked a weekend when she was out of town, and tore my daughter away from her university studies to go to Faro. I had been all set to go as part of a piece on various cuisines' Sunday lunches. But like quite a few other Korean places, it doesn't open on Sundays.
The long corridor at the front opens into a larger room, handsomely fitted with pillars and beams of dark wood. Seating arrangements include low tables which are thoughtfully set in small cavities so those with creaking knees can get the oriental experience.
I marvelled at the ugliness of the overhead light fitting, which looked more like a chimney. The reason for this turned out to be that it was a chimney. And its importance in the scheme of things was soon to be revealed.
The a la carte part of the menu includes some of the peasant classics that are to be found in the cheaper uptown cafes: the barbecue-in-a-pan they call bulgogi, and the rice-and-vege melange known as bibimpap. There are also $30 and $40 prix-fixe barbecue choices.
The very helpful waiter, who plied us on arrival with a delicious barley tea, established that we were first-timers and helped us build a barbecue selection that suited our needs, though I thought he said "I don't know the English word for that" a little too often: mastering a dozen key culinary terms in the lingua franca would be helpful.
On the advice of a nearby regular we ordered a "table set" of accompaniments which included the classic kimchi (cabbage pickled with garlic and chilli), glass noodles, florets of brassica and a rice-based jelly that defied our limited combined skill with chopsticks. It included a bubbling pot of doenjang jjigae, a delicious spicy soybean-paste soup with lumps of tofu which is something of a staple dish.
These all landed, along with a very nice green salad, about the same time as a chef arrived with a tabletop brazier, which I think is called a faro, of charcoal burning at white heat. (You can get a good idea of the set-up from the photos on the website). Our waiter promptly pulled the chimney into position - it both exhausts the smoke and fans the flame - and set to cooking our steak.
I wish I had told him we'd prefer to do it ourselves because he and I had rather different ideas about what constituted an ideal cooking time.
Fortunately my daughter called a halt before complete incineration occurred and we enjoyed the meat wrapped in huge slices of white radish and crunchy, coarse and delicious sesame leaves before going on to cock up the cooking of several of the half dozen fat juicy prawns all by ourselves. Our restrained barbecue was augmented by a serving of a vegetable bibimpap, which arrives as rice and vegetables artfully arranged in a large bowl with a fried egg on top. The drill is to stir it all vigorously just before eating which seemed slightly wanton, but the $15 dish, nicely spicy and wholesome, was terrific.
My only beef is that we were asked to vacate the table at 8, having booked for 6.30. As it happened, we were ready to leave anyway and they were terribly apologetic about it, but some forewarning would have been good. Still, at these prices (the whole meal, with a $14 bottle of the lovely milky rice-and-wheat wine called takju, cost $88) you don't expect the same service as in a fine-dining restaurant and Faro is an enjoyably exotic experience.
Need to know
Value: $
$ = $20-$40; $$ = 40-60; $$$ = $60+.
(Price guide reflects three courses for one person without drinks.)
Also try:
Cheap Korean restaurants are prolific in the upper part of Queen St, including the unlikely diner on the corner of Mayoral Dr. VIP Restaurant in the Auckland Fish
Market in Jellicoe St (Ph: 09 336 1111) is more of a buffet affair: the flat-rate charge is $40 per head (cheaper for younger diners).
* I have twice mentioned that Kermadec at the Viaduct has been booked out for the Rugby World Cup by the French rugby team. The management advises that the adjoining brasserie is open for business throughout the tournament.