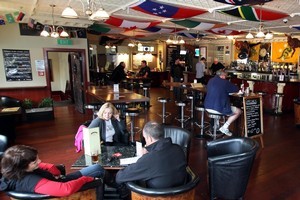 Someone asked me recently if I reviewed only good bars and I said no, I review whatever bars take my fancy and I'm very lucky that most of the time there is something to like about the places I pop into.
So I was fairly sure the Albion would be, if not a great bar, at least acceptable. Boy was I ever wrong.
It was raining when I ducked in, en route to somewhere else. A pint and a bit of a rest, I thought, while I wait for the rain to stop, so I went to the bar and ordered a pint of Guinness. That was my first mistake; it was sour and the head was yellow, a sure sign of trouble.
My second mistake was asking the bloke behind the counter for a receipt. I'm not sure whether the task was beyond him or he simply couldn't be bothered, but he slapped down my pint with a grunt and wandered off to talk to someone else. I hung around for a bit, but he showed no sign of getting the receipt, so I retired to a table to try the Guinness.
It was awful and I could hardly finish it, which is unlike me. The pub itself looked fine; a lovely old exterior and nice polished floors, but I couldn't get over the feeling that I was not welcome at all at the Albion, which was odd, because I've had some late nights in there that were fine.
The barman's smouldering glare was putting me off so I decided I'd leave without having anything to eat - another half-hour in that place would have robbed me of the will to live.
I'm sure it has its fans, but I'm finished with it. Even the good-looking $10 steaks wouldn't drag me back in, unless it was to measure the barman so I'd finally know the exact height of ignorance.
Scores
Service: 0/5
Drink: 2/5
Food: N/A
Atmosphere: 1/5
Overall: 1/5