Ms Ryburn directs Wendyl Nissen.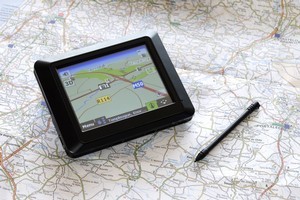 I've been on a road trip this week with my new friend, Ms Ryburn, who lives in my car. Ms Ryburn is the name of my former headmistress and I have named my global positioning system (GPS) in her honour.
In my five years of high school education, I never heard Ms Ryburn ever tell anyone off. Yet she ruled the school with an iron fist, simply by being patient, repetitive and in possession of a voice which you just can't ignore.
When she read from the Bible at assembly she would be careful to point out the passages which were a little sexist and read wonderful feminist verses, which switched on a light in me that has never been extinguished.
My GPS has a similar voice. It is female and slightly British. Not in a Coronation Street way, more an "I'm actually a Kiwi but I lived in England once and now I have this accent" way.
Ms Ryburn and I don't have much to do with each other in Auckland because, when it comes to my hometown, I know my way about. Ms Ryburn hasn't kept up with the latest motorway on-ramp and off-ramp closures and once advised me to do a U-turn on the Southern Motorway, so we tend to agree to disagree when it comes to driving around town.
Out of Auckland, though, Ms Ryburn is, as Mayor Len Brown would say, in the house.
Occasionally I will think I know better than her and make a wrong turn, but Ms Ryburn never says "you've gone the wrong way you stupid girl!" Instead, she says: 'In two kilometres keep right at the roundabout and take the third exit'."
In other words, turn the bloody car around.
My husband is a big fan of Ms Ryburn and follows her word to the letter. She says turn, he turns. She says "straight on at the lights" and straight he goes.
We've been on a road trip this week to promote my new book. It was meant to be a bit of a holiday as we gallivanted all over New Zealand in the Prius, but at the the end of a day of driving, smiling, hugging cute babies, signing books and driving we collapse on whatever bed we find.
"I thought this was going to be relaxing," said my husband on day two when the novelty had worn off.
"Well, look at it this way, at least we're not fighting over directions like we usually do, thanks to Ms Ryburn."
My husband is actually more interested in charting the price of fruit and vegetables as we head south. Broccoli and avocado to be precise.
"Look at that, two heads of broccoli for only $2," he shouts.
"Sshh, I can't hear Ms Ryburn, did she say left or right at the roundabout?"
Avocadoes came down in price progressively between Auckland and Hamilton, until we hit Tauranga.
"Six avocados for $2, I don't believe it. ... we're paying $2.59 in Auckland!"
The Prius is now full of not only boxes of books but bags and bags of avocados and broccoli. Not to mention the oranges. And before you ask, one big bag for $2.
Ms Ryburn couldn't care less. The reality of facing two bumbling drivers every morning heading off to yet another town with frequent stops for cheap fruit and veges seemed to hit her in Rotorua.
There, she advised us to go round and round at the roundabout, with no advice of which exit we should take.
We gave her the day off and opted to follow State Highway 1.