Tummy troubles? A new yoghurt may be the answer. Gill South finds out more from the Fonterra Research Centre.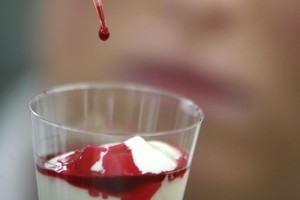 Well, if I ever bump into Lorraine Downes at a "society party" I won't bother with small talk. I'll just launch straight into our mutual challenges with constipation, flatulence and bloating due to stress. Marvellous. I think we're going to really bond and become BFFs.
Lorraine is doing the TV advertising campaign for Symbio Probalance, the yoghurt produced by Fonterra, whose probiotic culture, DR10 claims to sort out "gut discomfort", reducing digestive gurgling, flatulence, constipation and irregular bowel movements.
I mean frankly, I'm not surprised this former Miss Universe has problems with her digestion - she has maintained being slim and gorgeous for decades now. The fat person inside her must be crying out for some respite. The poor love probably hasn't had a lamington since 1980. I think my "gut discomfort" battles are more because of my high fibre diet. I'm going to be one of those old ladies that confides to complete strangers, "I love lentils, but lentils don't love me."
I noticed Lorraine didn't attend the press trip a group of us went on to Palmerston North to visit the Fonterra Research Centre where DR10 was discovered. She probably would have been mobbed by the women's magazine editors who came on the trip, so wise move Lorraine.
So, it seems that New Zealanders are a bit under-educated about the balancing capacities of probiotics. Probiotics, are micro-organisms that aid digestion by boosting the number of good bacteria that live naturally in the gut. There's bad bacteria in there too, fighting for space. In fact, there's a war going on in there, which could explain the gurgling we sometimes have. Diet, stress and lifestyle choices can change the bacteria in the gut.
Women seem to be suffering more than men on this, possibly for hormonal reasons, but we are not really sure why. The stats show that three out of four New Zealand women suffer from a digestive discomfort issue.
Apparently gas affects 40 per cent of women and bloating, 36 per cent.
More interestingly, women in Fonterra's research have admitted that their bloating and gasiness, directly impacts on their eating patterns, wardrobe choices, socialising and personal relationships. Imagine being dumped by your boyfriend for a bit of flatulence. Outrageous.
But help is at hand if your relationship is in danger for this piffling reason.
The important thing to remember if you want to make a difference is to have an effective dose of probiotic, say the good Fonterra scientists in Palmie. A 150mg serve of Symbio Probalance yoghurt - there are five billion DR10 probiotic cultures in that - will do the job nicely, apparently. You should start feeling the difference in 14 days.
We all get to taste the yoghurt in various flavours - I like the vanilla bean best and I'm going to plonk 150g of the natural yoghurt on my lentil soup next time and see if that helps. By the way, you can't heat it, it'll destroy the viability of the cultures. You can find other probiotic yoghurt in the supermarket but not one specifically developed for gut discomfort.
An interesting fact:
Palmerston North has the most scientists in one concentrated spot in New Zealand. 3000 apparently. Imagine the clotheslines on the weekends ... all those white coats.
Next week:
Next week, I learn from psychologist Dr Craig Knight about creating a vibrant work environment in my home office to make me more productive.