Make the most of fresh citrus. By Grant Allen.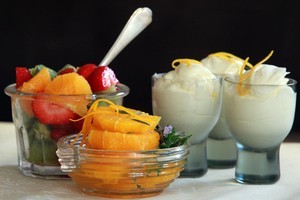 Golden moments are happening in New Zealand gardens as citrus trees carry their full flush of lemons and oranges. The markets and stores are full of locally grown varieties Stoke up your vitamin C levels and make the most of these sunshine-coloured fruits. Citrus flavours lend themselves to desserts - here are three of my favourites.
Spring fruit salad
NZ oranges, kiwifruit and strawberries are now available.
1. Peel the kiwifruit and oranges and slice into chunks
2. Halve the strawberries or leave whole if small enough.
3. Squeeze over the juice of half a lemon and enjoy the fresh zesty colours and taste.
Middle Eastern oranges
1. Put 200g of sugar and 200ml of water in a pot with 1 tsp of fresh rosemary leaves and the zest of 2 oranges.
2. Bring to the boil and simmer for 3 minutes.
3. Add another 150ml of water and leave to cool.
4. Peel all the pith away from the 2 zested oranges and do the same with 4 more (6 oranges in total).
5. Cut each orange into 6 slices crossways. Add to the cooled syrup with 100ml of rosewater. Chill overnight.
6. Serve with 100ml of cream,100ml of yoghurt and a little pure vanilla essence beaten to a soft peak.
Timaru frozen lemon parfait
This easy recipe came from Lois Daish's food column published in The Listener 1994, and I've made it many times. It's makes enough creamy lemon heaven for 6.
1. Beat 2 cups of cream and a small cup of sugar to form soft peaks.
2. Mix in the finely grated zest and juice of 2 lemons.
3. Spoon into individual glasses or a bowl and freeze.
Lemon pasta
1. Cook off some pasta (use a smaller type of pasta, I used macaroni).
2. Toss the drained, warm pasta in a little cream (or oil), the fine zest of a lemon and finely chopped parsley.
Preserved lemons
These lemons are used in many Middle Eastern and North African dishes. You can buy them but they are easy to make and go a long way. Thin-skinned lemons are best and make sure any wax or sprays have been washed off the skin. The jar you use needs to be sterilised and have a wide mouth.
1. Split the lemon into 4 petals leaving the base intact. Stuff the lemon with plain sea salt (don't use your expensive gourmet salt!). Pack the lemons into the jar and cover. Leave for a day at least, in a cool dark place. The skins will soften and a lemony brine will have been produced.
2. Try to repack the lemons more tightly into the jar and cover with fresh lemon juice. Seal and store for a month before using.
Peppercorns, a bay leaf or a cinnamon quill, or all three, may be added to the jar for extra flavouring.
To use the lemons, rinse off the brine and remove the flesh. You use the preserved skin for the flavouring. Dice and add to tagines, braises, rice or cous cous. These lemons go particularly well with fish, chicken or lamb.
Once you have opened the jar, store in the fridge with the lid on.
Check out some Middle Eastern recipes for more inspiration. Make a few extra jars for Christmas presents - they will be very tasty with summer barbecued lamb.