Taking Shanks' pony to and from work is good exercise with interesting sights along the way but, discovers Alan Perrott, not without its dilemmas.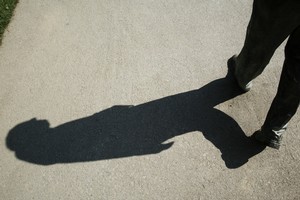 There are times when walking could drive me back to my car. Life is so much simpler when you're in traffic. There's only one line to worry about and if it's crossed, well, your problems might be messy but at least they'll be brief.
Otherwise, thinking is unnecessary - just look at some of the halfwits who are allowed cars. They're like toddlers running about with scissors.
Then there's the likes of me, the plodders. Sure, it's only one foot in front of the other until you get where to you're going but if you've ever watched New Zealand's Next Top Model, you'll know that walking can be a tricky business.
And when all you have to do is think, the world can become very complicated, very quickly.
Consider this: a few weeks back I was wandering toward Franklin Rd in Ponsonby. It was a lovely crisp Auckland morning and I was giddy with a sense of "hello birds, hello trees ..."
As I round the corner, a young lady heading uphill passes by. Being in a fine mood, I smile. She smiles back. Everybody's happy.
Come early evening, I'm making my way back up Franklin Rd and lo, we meet again and again we smile. No problem, walkers united and everything.
Then, tomorrow arrives. Yep, same place, same woman. What's the form this time? Do I smile again? Oh, I don't know ... damn, too late, so of course I do.
It gets worse.
It's the end of the same day and I begin my ascent of Franklin Rd and ... the coast is clear.
Halfway up, I'm loping along, re-tuning my radio. Up she pops from nowhere ...
I'm instantly awkward as the absurdity of the situation strikes. So a beaming grin busts across my face at exactly the wrong moment. No. No. No.
I don't see her again for several days.
When I do, she looks at me oddly and I find something on my face in need of scratching. Madness.
We're both walking in different directions to places unknown. I don't know her. She doesn't know me. We don't know each other. Yet on some ridiculous level we have connected.
Where's the bloody line on the road when you need one? Where are my electric windows to shut the world out? As things stand, my only protection comes from earphone buds and the strap on my dodgy knee.
Yeah, I could always walk another way to work. The hell I will, though. Like all committed pedestrians, I've spent far too long accumulating the knowledge for that. Every potential shortcut has been tested, every traffic light phase has been memorised, and even the changing angles of the sun have been taken into account. These are the details that separate the players from the stayers and I've lost count of the number of times newbies have stormed past, red of face and short of breath, only for me to catch up with them again via street smarts.
I know, it's not a race. The trick is to never look like you are racing. Outwardly, I'm the serene swan, but inwardly I'll be giving it the Wendy Petrie fist-pump.
The other trick is figuring out whether to speed up or slow down when you're stomping up behind a woman after sundown. Now that's a conundrum with no good answer. I now favour the dash: the quicker you're by, the quicker everyone can relax.
So I'm not changing anything. A new route would just give me a whole new set of people to bump into.
And it's all because I had to give up the gym. Which doesn't matter but walking to work seemed like an acceptable alternative - it's a 40-minute trip each way, with enough climbs to be annoying.
Besides, it's interesting. Every morning I stride through the new day excitement around Richmond Rd Primary and keep going until I hit the dregs waiting to be poured down the District Court plughole.
Come clock-off time, I set off through ossified commuters watching for buses and end with those who rather like where they are and have stayed for a beer. Everything else happens in between.
There are the Ponsonby Rd regulars. My favourites are the guy who seems to be reaching out for a handshake even though his hands are in his pockets and the woman in the gas mask.
Then there's Gandalf, who nods and winks from his bus stop, the old woman dragging her junk mail from letterbox to letterbox in all weathers, and hoodie guy who is forever walking uphill with his water bottle and towel.
A little further there's the sultry South American-looking woman with the perma-scowl and the waif who looks like swizzle sticks in big sunnies and can bound up the hill at speeds most of us could only hit when falling down it.
Anyway, and to plagiarise Sesame Street a little, these are some of the people I meet when I'm walking down the street, etc and so on.
What is possibly more unexpected is how often I get to do so. Few things are less fun than getting to work with wet socks and, given Auckland's reputation, that should happen way more often than it does. Now, this isn't backed by any science, but I'll make a bold claim and say it hardly ever rains in the morning. Mostly my brolly comes along for the ride.
Still, it's a handy thing to wave about in frustration when I'm listening to my wireless. Stationwise, I'm of no fixed abode, but I have been making a study of talk radio. I don't know why, maybe I hope the angry buzzing will fend off my fellow travellers.
So it's with a slightly ashamed, anticipatory skip that I always catch Leighton Smith's opening monologue on Newstalk ZB. His discourse on evil leftists, climate change conspiracy and taxation can chill a warm heart at 10 paces, but they've become a jolly game where I award myself points every time he says "scenario" or makes a clicky noise in place of speechmarks - I win by miles every single day and who doesn't want to start their day a winner?
For those days when Smith gets too much, there is always the relief of Marcus Lush on Radio Live - although the faith I've kept since his bFM days is fading. His outsider whimsy has aged.
Otherwise it's Radio Sport, because nothing gets my knees jerking more than people who can adore and then despise the exact same thing with equal fervour on alternate mornings. Sport's ultimate pointlessness.
All the same, I could be listening to white noise for all the notice I pay it most of the time. When you take your ears out of the equation - and walking takes on a whole different complexion without radio chatter - your other senses step up.
The streets of Auckland are a smellorama. There's a smell to be smelled only near a drycleaners and I know which home has a dodgy septic tank. Monday often means the smell of freshly cut grass and bin day means you might want to walk a bit faster.
Slowing down also means seeing the slow changes, the villas taking turns to be renovated, the businesses taking turns to fail and a bar being slid along concrete tracks - there was a proud tear in my eye when I watched the old Bird Cage smash the bottle of plonk marking the end of its first journey.
But there is one change I'd like to see returned to the way it was. I want the abandoned misery of Victoria Park Market back. It's not that I got any talkback joy from the crushed hope of each stallkeeper as I made eye contact and then walked on by, it's that I want back the 12 seconds that shortcut used to take off my journey.
Walking might sometimes make me feel very small but, in the end, it's still all about me.