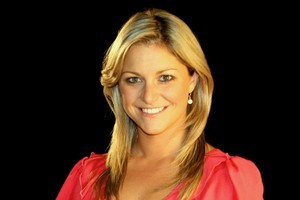 If I had a bucket list of things to do before I died, my top three would be: become a mum, attend a Wimbledon tennis final and run the New York Marathon.
I've broken my arm, collarbone and leg. I sound like Mark Graham but I'm really not trying to beat his record. I broke my leg playing rugby - it was a bit of a major, the reconstruction of it meant inserting a 30cm titanium rod into my shin. It's still there.
Comfort is my golden rule of dressing. If it's not comfortable you'll so regret it. Comfy doesn't mean tiger slippers and track pants though. I've suffered too itchy, hot, tight, rides up, slips down, pokes in, sticks out ... and no matter how many compliments you get it's never worth it.
Growing up on a dairy farm in Taranaki was the most influential part of my upbringing. A spade is definitely a spade in the 'Naki, but there's lots of loyalty, warmth and humour. There's just something about tyre-riding and building huts on the farm that enables you to see that the glass is half-full.
The years following my brother Stephen's death in 2002 were extremely difficult. He was 14 when he died in a farm bike accident. I was 18 and just about to move away from home for the first time to go to university. It was really tough having to start a new phase of my life in a faraway place. Dealing with him not being around is something that will always be a challenge for me.
It took me three or four years to realise how important it was to have balance in my life. Newsrooms are addictive and operate 24/7 so I lived, breathed and ate journalism - and it's not nutritious. Having interests outside of work is crucial for me. I also run regularly and plan my annual leave so it really feels like a holiday.
Most people say: "You're so lucky, it must be a dream job." The only ones who don't say that are people who surf or caddy for a living. And then there's Richie McCaw, Ryan Nelson, etc ...
The best thing about being on television is the buzz you get from going live. There's nowhere to hide, and that means it's a fantastic feeling if you nail it. The worst thing is that friends get so disappointed when they find out that you can't fix their Sky decoder or programme their PVR.
I wish I had never slipped on the stairs and fallen over in front of all of the Irish media at the start of the Rugby World Cup.
The last time I belly-laughed was on our second Saturday Breakfast show when Rawdon Christie quite innocently said to the chef who was cooking meatballs in the studio, "I've been smelling your balls all morning".
Running around kindergarten singing my favourite song Born in the USA all day is my first memory. And I do mean all day. You know how little children love watching the same thing over and over and over again? That was me: "boooorrrn in the USA, boooorrrn in the USA". Being Bruce was my first memory and quite likely the kindy teacher's worst nightmare.
I once tried to take a shopping trolley down an escalator ... no, not a travelator, an escalator, yep the one with stairs ... Not my finest hour.
The best advice I have ever received was "don't try to be anyone else, just be natural, be yourself".
Toni Street is a One News sports presenter and co-host of Saturday Breakfast.