Khalid Shafar uses his Emirates background to design stunning furniture that is also practical for modern lives.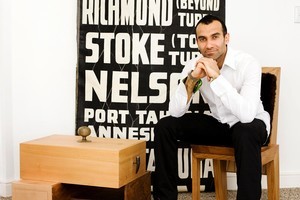 Suggesting to a furniture designer that a chair is just for sitting on is like telling a chef food is just for nourishment. For Khalid Shafar, a United Emirates designer working in New Zealand, an object's functionality is key. But creativity, he says, can elevate a simple chair to supreme functionality. His Gemini chair has the ingenious ability to fold into a table.
"People are living a new lifestyle," he says, a few hours before jetting home to Dubai. "People are moving around, they're living in compact places. They're sharing and they have fewer pieces to save space. I try to approach things by thinking if it can have two functions in one."
Shafar, 30 is a designer on the rise, a talented craftsman with a head for business. His work is a clever modern take on the 60s and 70s, an elegant mix between simple lines and rich materials. Many of his pieces have been requested for exhibitions and he is quickly establishing himself on the international design scene. He lives an enviable life, flitting between Auckland and Dubai.
The Gemini chair is part of his first collection, a wood-based range that fuses his Arabic and Western design sensibilities. Playful and quirky, each piece tells a story. The dual functions of the chair were inspired by his Gemini sisters, their contrasting personalities representing a different facet of the piece.
After spending a week in Sao Paulo last year with Humberto and Fernando Campana, famous furniture designers known for turning the banal into the outrageous, Shafar was inspired to be more courageous with his designs, and to look at simple materials in a new way. So when he attended a design conference in Qatar in March and was asked to come up with pieces inspired by the word "link", he took a headscarf with a black band, a garment worn by Arab men, and hand-stitched it multiple times to create a room-dividing screen.
"Using the bands, which are a part of my culture, there were questions around its use: would people be offended?"
He also designed a game board called the Dubai Journey, the facade of which tells the story of the UAE's early history.
Shafar is almost ready to unveil his second collection, expanding into using other materials, such as plastic. He's also taking more interest in creating pieces that reflect his culture; it wasn't until he moved to New Zealand he realised his designs had a modern Arabic influence. Shafar's Illusion stool, with its criss-crossing Danish rope stretched over ash timber, simulates the strips of light and geometric shadows as seen from high-rises in Dubai. That'll set you back about NZ$2000.
"In my country there's not so much history in design and art because in the Arabian desert, the Bedouin people would travel on camels, so there was never an established architecture. I found it very challenging to find ways to use my culture in my work but it was good because it made me research more."
So what's an Emirati designer doing in New Zealand in the first place? It was almost serendipitous that Shafar ended up here. Despite years working his way to the top of Dubai's corporate ladder, his plan was always to switch to his long-term goal: to become a furniture and object designer. He spent eight years working in marketing and communications, his last few years as Group Marketing Director at the Dubai Holding Corporate Office, a major conglomerate owned by the Government of Dubai. But he was mindful of the day when he'd have to make the decision to quit his job and pursue his passion. The financial crisis was a catalyst, and his company restructured. There was an opportunity to stay.
"But I thought maybe it's time I followed my dream."
During his corporate life, Shafar had secured himself financially so was able to leave work behind and focus on his career as a designer. With degrees in both business and design, Shafar was keen to take his designs to the next level. He researched woodwork courses and found the Centre for Fine Woodworking in Nelson, envisaging a quiet life with space and peace to nurture his design work. After studying there last year he decided to move to Auckland to immerse himself in the hustle and bustle and to have more contact with other designers.
"New Zealand has a uniqueness that comes from its geographic isolation. It's away from the hub of design so you don't get those similarities. There's the same rhythm in London, Milan. In New Zealand you get back to nature."
It's still early days but Shafar is in talks with two retailers in Dubai for his new range. He has also done a few commissioned pieces. The traditional Arabi screen (with a price tag of about $9400) has been requested at an exhibition in Berlin; another piece is heading to a gallery in Tokyo. It helps that Shafar has a slick website where he's pictured looking sharp in a white shirt and shades. He knows the importance of projecting a professional image.
"Today's designer cannot just be a designer relying on their creativity and inspiration of design. They need to be a shrewd businessman as well. You can either hire a marketing agency or play a big part in it yourself. I can do everything - I'm the face of my brand as well."
And he knows what he wants. Shafar isn't just content to see his work displayed as modern art. He wants people to understand the thinking behind it, to know the story each piece tells.
"I want to see my work in people's homes."
* To learn more about Khalid Shafar's designs check out his website.