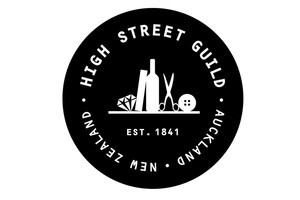 Viva is delighted to announce "First Light - Fashion's Night Out" on Friday September 30, the first event in a year-long schedule of activities planned by the High Street Guild which is a made up of a collective of passionate local businesses in this inner-city fashion precinct.
First Light, presented by Viva, will run from 12 noon until 10pm, with High St being closed from 4pm so the district's fashion houses, retailers, restaurants, bars and galleries can open their doors to the street showcasing the best of the new season's fashion, food and culture. A great line-up of live music including The Checks and Motor City Family Funk will play into the evening. For a full list of what's happening at First Light click here.
Best in black
Eighty per cent of us wear black because we believe it flatters our figure, according to a recent survey. Well, here's another reason. The New Zealand Fashion Museum is hosting a "Best in Black" competition designed to find the best dressed woman and man wearing black.
The judges will be looking for stylish black outfits which epitomise New Zealand fashion style. Dianne Ludwig from the museum says "while it's a bit of fun, it is also a way for people to interact with our current Black in Fashion exhibition and a to express their own sense of sense of New Zealand style".
If you are keen to enter, visit the Black in Fashion exhibition, cnr Gore and Galway Streets at Britomart between 10am and 4pm on September 22-24 (Thursday to Saturday). Dress in black, of course, and you just might be photographed and entered into the competition. Winners will receive a prize package of shopping vouchers from neighbouring Britomart retailers including new fashion concept store Curate and Timberland, and will be announced in Viva on September 28.
Cyber glamour
A new beauty website launched at Fashion Week is working with local suppliers to ensure the products it sells are up to scratch. Mybeautystore.com is a New Zealand site that sells at retail prices, but with the bonus of samples, gifts with purchase, a loyalty scheme and free delivery nationwide. Some sites with attractive-sounding prices have been found selling counterfeit items and goods past their use by date, leaving customers short-changed. One brand manager told Viva of a woman who spent several thousand dollars shopping online for prestige skincare, but the products obtained from an overseas website were "off". She tried to return them to a cosmetic counter but because they had been obtained through a suspect site they were not replaced. Mybeautystore's brands include Becca, Smashbox, QVS, Jurlique, Snowberry, Butter London, Mario Badescu, Le Tan, Za, Murad and more.
* Beauty boutique Glamorpuss has also started an e-tail site making its eclectic range of goodies online for those who can't get to the Nuffield St, Newmarket store. Among the items available is DuWop Lip Venom, the first lip plumper launched and still one of the store's topsellers nine years on. Co-owners Marianne Welch and Rachel McNaughton say their mission remains to track down guaranteed genuine beauty products they love and introduce them to New Zealand shoppers in store or online.
Eye to eye
Nowadays, you aren't a true fashion brand until you have an eyewear collection. Sass & Bide's first range, King of Plenty, is in store now. Featuring bold materials and vintage-inspired shapes, the first range includes metal braiding, rose gold chains and laser-cut trims, with a burnt out palette including rose gold and silver metals, red, rust, orange, classic black, tortoiseshell and leopard. For stockists phone 0508 Eyewear.
Celebrity shopping
Kiehl's is celebrating its 160-year heritage and two weeks of being available in Newmarket by getting local celebrities to staff its counter at Smith & Caughey's this Friday. There will be deluxe-sized samples for some lucky customers. All of the day's net profits will go to the company's chosen local charity, Garden to Table, which encourages schoolchildren to grow their own produce.
Smells like Marni
Marni is launching its first fragrance. The Italian fashion house has signed a deal with Estee Lauder, and the scent is set to be released next year. Estee Lauder's Veronique Gabai-Pinsky says: "Wearing Marni is like wearing a piece of art. It is an expression of individuality."
Helping hand
Nellie Tier has developed a special scent for a handmade handcream being sold as a fundraiser for Rose Charities. The group helps restore the eyesight of Nepalese villagers, changing lives by providing surgery in remote locations. Nellie Tier co-founder Ann Porter saw the charity at action in Nepal last year and is an ardent supporter. The Coriander and Rose cream costs $38, plus packaging and postage of $5 (for up to six jars), with $20 from each jar going to an eye clinic in Nepal and providing enough money for one operation. To order send a cheque to Rose Charities NZ, c/- the charity chair Trish Gribben, PO Box 42063, Orakei, Auckland 1745, with a return address for dispatch. For bulk order inquiries contact trishgribben@xtra.co.nz.
The book of Gaga
Lady Gaga has collaborated with photographer Terry Richardson to release her first official book, set to be published by Hodder & Stoughton late this year. Lady Gaga x Terry Richardson is described as a "visual dialogue" between the two, featuring over 350 photos of the performer taken over a 10-month period. Both artists are known for their controversy and envelope-pushing, so this could be Gaga's Madonna SEX moment ...
Teach me
Having long passed judgment on the catwalk via the pages of Vogue, a leading magazine publisher is setting up its own fashion school in London. The Conde Nast College of Fashion and Design will open in September 2012, taking up to 300 students in its first year. With courses branded around its stable of monthlies and weeklies, its principal will be Susie Forbes, editor of Easy Living and former deputy editor of British Vogue. Last year, Conde Nast's British arm made £34.6 million (NZ$60m). It is thought the conglomerate's move into teaching may face hostility from the arts education community, with the capital already hosting the London College of Fashion and Central Saint Martins. - Independent
Bonus deals
Beauty blockbusters are the industry expression for the year's biggest gift with purchase or bonus buys offered to customers and right now Elizabeth Arden and Estee Lauder are in blockbuster season. The Arden traincase can be bought for $99 by those already spending more than $75 and contains a bumper haul of mostly full-sized goodies , with Lauder's offer a similarly tempting way to stock up. Cute lower-value deals include at Za, where customers who spend $30 get a gunmetal metallic mini shoulder bag. Moisture Mist fans can stock up on the popular Beauty Cake foundation in a limited edition silver compact which also comes with a sponge and coin purse for $39.