Frustration when shoe-hunting inspired three friends to launch an online footwear store.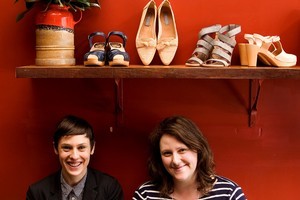 Three stylish friends with a love of good shoes have just launched New Zealand's latest online store, papershoes.com.
Helen Gould, Amber Easby and Alexis Brooks are the women behind the footwear-focused e-store, which will stock a range of international brands not yet readily available in New Zealand, with free shipping and no pesky duty costs.
Gould and Easby are co-directors of the site, who met while working together at K Rd's Bunny Boutique a few years back. Easby, who co-owns D.O.C Bar with her husband, met Brooks while they were both living in London before moving to New York - where Brooks has again been recently for New York Fashion Week and the next round of buying appointments. The trio now live in Auckland. They talk us through their new venture.
Why launch Papershoes.com? Why the focus on shoes?
Helen was living in London, Amber and Alexis in New York. In these cities, there is a never-ending supply of amazing shoes - everything from high street to designer labels.
Since moving back to New Zealand, we really missed having access to the extensive ranges available elsewhere. We are all avid online shoppers but found a lot of the designers we loved didn't ship to New Zealand, or accept payment from a New Zealand credit card. And we all had terrible experiences of ordering from international sites where the price of the shoe practically doubled with GST and duty charges when coming into the country.
While in London, Helen managed a shoe boutique and developed their online store. Amber was running web stores for bands such as The White Stripes, The Raconteurs, The Dead Weather and Karen Elson. We had the idea for Papershoes when Amber was on tour overseas and called Helen from the shoe section of a high-end department store. We felt we weren't the only people experiencing these frustrations with the somewhat limited supply of shoes in New Zealand and the difficulties in ordering from international sites. A locally based online shoe store seemed like the logical solution!
Why "papershoes"? What's behind the name?
Designers use a paper shoe model to test the size and fit of a shoe prior to production. Plus Paper Shoes is an awesome Yoko Ono song on Plastic Ono Band - we were listening to that record a lot during our initial brainstorming sessions.
Tell us about some of the brands you'll be selling. Is there a certain aesthetic that you're going for?
The three of us decide on all of the orders together, so what we carry is a result of our collective taste. Most of all, it is important for us to carry a range of international designers and to be able to provide great shoes at various price points. At the moment we stock Acrobats of God, an American-born designer based in Italy who has collaborated with the likes of Manolo Blahnik and fashion houses such as Salvatore Ferragamo and Alberta Ferretti; Bass, classic American brand, well-known for one of our favourite styles, the penny loafer; Swedish Hasbeens, the original clogmakers from Stockholm; Minimarket, avant-garde shoes, also from Sweden; and Minnetonka - another American classic; moccasins are truly America's first footwear.
We have orders on the way from Rafia Chic (Australian company that make incredible hand-woven raffia shoes), Bloch (an Australian shoemaker that established itself as a dancewear company), United Bamboo (New York-based label who also own their own indie music label, United Acoustic Recording) Loeffler Randall (beautifully constructed, uber-feminine shoes, again from New York) and Ropey Soles (makers of the original espadrille).
Are there any dream brands that you hope to have one day?
Helen: I think we already have some of our dream brands. We have been in love with designers such as Minimarket and United Bamboo for a while now. There are also newer companies such as Rafia Chic that we stumbled across while researching for the site and immediately decided that we would love to stock their shoes.
Amber: Before Alexis went to New York, we made a wishlist of designers showing and so far the response has been really positive. I think next season the site will be at the next level and we will continue to expand upon the ranges we carry. In terms of dream brands we are all really excited about new up and coming designers but it would be great to have some of the big names as well. And eventually we hope to carry bags as well.
Online shopping is a huge market, and one that is only going to continue to grow - what do you all love about online shopping?
We love that with online shopping, you can try on a pair of shoes in the comfort of your own home, with your favourite outfit. We love that it saves time and money and when your order arrives, it feels like a present. And we love that you can shop from anywhere - including work, on a slow and rainy afternoon.
What are your favourite online stores?
Net-a-Porter, La Garconne, A.P.C and Dominos Pizza are our favourites online stores ... all for very different reasons but ultimately they are fun and functional sites that are easy to use.
Why are women so obsessed with shoes?
Helen: For me, shoes define my outfit. I can be wearing jeans, and throw on a pair of heels and I am ready to go out. I don't know what it is, but a good pair of shoes can really lift my spirits.
Amber: Good shoes have longevity to them, which I find really appealing. Plus you always know what size you are going to be. Shoe shopping has none of that weird baggage that can come with clothes shopping - especially for something like jeans.
Alexis: A good outfit is all in the details.
Tell us about your first, or most special, pair of shoes?
Alexis: When I was 18, I was an intern at Vivienne Westwood's Press Office in NYC. At the end of the internship they gave me a pair of black animal print Mary Janes as a thank you present.
Helen: I was given a pair of Beatrix Ong heels once as a gift - I'd been eyeing them up for months and it was complete surprise. The combination of tan leather and silver sparkles always makes me feel really special when I wear them.
Amber: I bought a pair of Marc Jacobs mustard yellow wedges on eBay in 2003. It was my first online purchase. I've worn them once but I look at them every day.