Glenda Bailey has transformed America's Harper's Bazaar by persuading A-list celebrities to take part in outrageous photo shoots - as celebrated in a new book.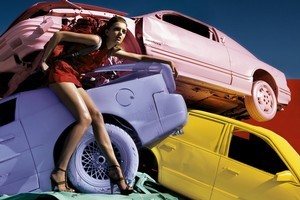 Glenda Bailey was two years old when she had her first fashion epiphany. She had been in hospital suffering from meningitis and, for a while, her parents were worried she might not pull through.
"I remember coming out of hospital and they bought me a navy blue dress, short sleeves, empire line, with a white lace collar," says Bailey, her voice still breathless at the thought of it.
"That dress represented, for me, the joy of being well. And I've had good memories about fashion ever since."
Now, as editor-in-chief of US Harper's Bazaar, the 52-year-old's taste in clothes may be more sophisticated, but her untrammelled enthusiasm for fashion is still very much in evidence.
Last week, while at London Fashion Week she gave a talk at London's Victoria and Albert Museum: "The best thing about fashion is that it translates into every culture. There's no difference between the English and American attitude."
Born and raised in Derbyshire, in central England, Bailey studied fashion design at Kingston University, west London, then went on to become editor of both the British and American versions of Marie Claire before moving to Harper's Bazaar in 2001.
Over the 10 years she has been at the helm of the magazine, Bailey's vision has combined haute couture with innovative art direction, garnering critical plaudits and a clutch of awards, as well as an OBE for her services to journalism and fashion.
A new exhibition and book, Harper's Bazaar: Greatest Hits, showcases some of the most striking examples of her decade-long collaboration with the magazine's creative director, Stephen Gan.
"It doesn't feel like 10 years at all," says Bailey when we talk. "But I'm a great believer in having big ideas and making things happen."
The result is a collection of more than 300 images, some of them iconic, some of them beautiful and almost all of them unexpected.
There is Tyra Banks posing in the White House as first lady, two months before President Obama was elected. There is the American fashion designer Donna Karan, sprayed head to toe in gold paint. There are Domenico Dolce and Stefano Gabbana dressed up like Batman and Robin. And there is a Simpsons-themed illustrated cartoon spread, in which Marge and Lisa model the latest styles from Paris (the designer Marc Jacobs so loved his Simpsons alter-ego, he had it tattooed on his arm).
Wouldn't it just be easier to put a pretty girl in a nice frock and take the picture? "I have an aversion to the usual magazine fodder," Bailey says. "I get easily bored. Some magazines, I look at them and I can't tell whether they were produced 10 years ago or 10 days ago. I want to feel in the moment, to try to represent a moment in time. I'm constantly thinking of what's next."
She has always been exceptionally motivated, even as a child of 12, when she would take on Saturday jobs so that she could buy clothes. Her parents had nothing to do with the fashion world - her father was a labourer - and Bailey grew up in a rented house, sharing a bedroom with her sister. "I'm very fortunate," she says. "If you look at where I come from, I'm a fairytale."
Her early life has left her with a drive to succeed, a desire to keep pushing the boundaries. Although she is frequently compared to the other grande dame of American magazines - the intimidating Anna Wintour - Bailey's natural warmth and quirky awareness of the absurdities of the fashion world have made her a different kind of character altogether.
According to those who work for her, Bailey's empire is ruled by aspiration rather than fear.
"One of my sayings is that good is the enemy of the great," she explains. "Life is too short for house wine. We've got to really try to push ourselves and constantly move forwards, to be as innovative and exciting as possible. I take enormous risks but I think it pays off because it's so exhilarating. When some of these photos come in, they literally take your breath away."
While running the American version of Marie Claire, her penchant for risk-taking was legendary. Instead of running the usual tired celebrity interviews, Bailey insisted that stars take part in a series of "challenges".
So it was that Gwyneth Paltrow was sent to a desert island for three days. The stars of the Charlie's Angels movie franchise - Cameron Diaz, Drew Barrymore and Lucy Liu - were stranded in the desert on a survivalist course. Brooke Shields went to Greenland to build an igloo.
"All of these people in some cases risked their lives to do something memorable," says Bailey. "Any actress or designer who participates in our shoots is by their nature creative and wants to produce something different."
Speaking to Bailey about her passion for what fashion can communicate reminds me of a scene in the 2006 film The Devil Wears Prada, in which a formidable fashion magazine editor (played by Meryl Streep) launches into a fervent defence of a precise shade of cerulean blue. Has Bailey seen the film?
"I have."
And did she notice any similarities between herself and the fictional Miranda Priestly?
She drops her voice. "Oh, I'm far worse," she replies, deadpan.
* Harper's Bazaar: A Decade of Style runs until January 8 at the International Center of Photography in New York. The accompanying book, Harper's Bazaar: Greatest Hits, is out now, published by Abrams.
- OBSERVER
Epic moments
As editor-in-chief of Harper's Bazaar, Glenda Bailey has seen some pretty fantastic things. Here are just some of her favourites:
* Demi Moore's 2010 cover, where she shared the coveted front-page real estate with a giraffe. Moore wore a dress and the 10-inch Armadillo heels from Alexander McQueen's last collection on a staircase to nowhere. The image was shot a few weeks before McQueen's suicide, but Bailey said she could think of no better tribute to him.
* Naomi Campbell's stunning 2009 "Wild Things" spread by Jean Paul Goode, especially the supermodel wearing a Blumarine cheetah-print dress outrunning a cheetah.
"When those pictures arrived on my desk, it was fashion heaven," Bailey says.
"I can't remember ever being speechless, but I was."
* The animated characters of The Simpsons taking a tour of Paris in 2007 with Linda Evangelista as their tour guide. Marge met Lagerfeld, Jacobs, Elbaz, Donatella Versace and Jean Paul Gaultier.
"Marc Jacobs loved his illustration so much, he had his made as a tattoo on his arm," reports Bailey.
* Top models Amber Valletta, Claudia Schiffer, Cindy Crawford, Shalom Harlow, Kristen McMenamy and Nadja Auermann posing without makeup for Peter Lindbergh in 2007. The women, all in their 30s and 40s, showed they were embracing their looks and age, Bailey says. The gallery is still one of the most popular features on the Bazaar website.
"When people talk about Bazaar ... they know we have a sense of humour," says Bailey, "but I think we're also renowned for our ideas."
* Kate Winslet's "exquisite" white strapless gown by Ralph Lauren, peeled straight from the runway for a cover shoot in 2009. She stood on what looks like rooftop scaffolding high above Manhattan.
"In reality, she's not that high off the ground, but it looks like she's risking life and limb, and that's what you want from a fashion magazine. You want to dream. You want to be aspirational and uplifting," says Bailey.
- Samantha Critchell, AP