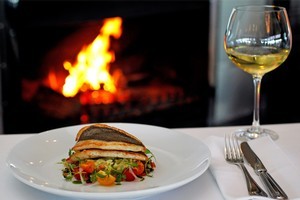 Confronted with those grim environmentalists' reports about the rape of the seas scooping up everything from sashimi for Tokyo's wealthiest down to fishmeal for fertiliser, there are two reactions. To stop eating all fish in an act of contrition or to rush to the nearest restaurant to make sure you get some while stocks last, as the cut-price ads say.
Needless to say, mine is the second response and there are few better places at which to adopt this tactic than Sails. This is one of the handful of Auckland eating places that defy the rapid turn-over rate of such businesses and soldier on for year after year with a successful formula. Times may be tough but there was hardly a vacant seat in the place on our evening visit with several big groups and a substantial proportion apparently drawn from the corporate world. And most of them were making a dent in the marine biomass.
There are other choices in what is a well-structured, classic menu. There is lamb with pea souffle, Angus beef fillet with mushroom and onion flan and duck with sweet potato blinis. But it would be perverse if a restaurant with such a great waterfront setting turned its back on the sea, so we stuck entirely to this section of the listings and did not regret it.
After the amuse bouche of pumpkin soup, I laid into the sauteed prawns. These were decent without being a show-stopper, although I enjoyed the little crab puffs and thought the tartare style sauce gribiche was appropriate. Our other first course was superb: tuna, again well presented with amusing little scampi doughnuts.
When it came to the mains I was deterred from choosing the day's special hapuku only by my lack of fondness for butternut pumpkin, which was part of the otherwise tempting accompaniment of squid, chorizo and basil. But I was happy enough with the well-executed, crispy skinned tarakihi - visually pleasing with a green base of broad beans and salsa verde and some potato gnocchi. If you wanted to be picky, the scallops weren't caramelised as advertised, looking as though their flirtation with the heat had been very brief.
Our other main was the evening's star turn. The roasted John Dory was delicious and the prawn and herb risotto and cherry tomato garnishes, while not perhaps cutting edge, were pitched just right. Our waiter, one of a team of immaculately professional staff, had advised that these meals were substantial enough not to require side dishes and he was right. We did venture into dessert territory, however, which was distinctly conservative and there was an extensive cheese list.
There was a good texture contrast with the crunchy freeze-dried berries and the softness of my chocolate delice although my preference is for rather more bitter chocolate. The little cheesecake, free of the usual and frequently leaden biscuit base, was light and tasty but it was decided more of the rhubarb would have been an improvement.
Sails is not strong on surprises but it is a well-oiled machine, delivering good food in lively surroundings, making it obvious why it is so enduringly popular with locals and why it will send away the visitors, who seem to be a high percentage of its clientele, with a pretty good opinion of what Auckland can offer.
Rating out of 10
Food: 8
Service: 8
Value: 7
Ambience: 7
Our meal: $229 for two first courses, two mains, two desserts and five glasses of wine.
Wine list: A stunning list, with many unusual items, but the selection by the glass might be bigger. Our Craggy Range sauvignon blanc was at the subtler end of the range and the Rockburn pinot gris was a full wine that went well with the fairly rich main courses. The Chateau Villefranche sauternes was a little golden gem.
Verdict: A big, bustling place glowing with success. Perhaps not ideal for the seduction supper but a safe bet for everyone else.