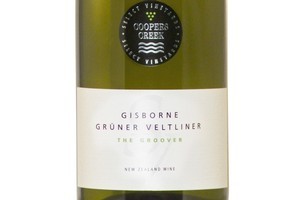 For those who may be weary at the thought of another chardonnay, sauvignon blanc or pinot gris, there is help at hand. Fancy a glass of marsanne, flora, verdelho, arneis or albarino? Options previously not readily available are appearing on the wine horizon, albeit in small numbers.
Courageous souls are experimenting with white wine varietals previously not thought viable in our cool climate.
Leading the charge is Kumeu-based Coopers Creek, which is changing the traditional white wine portfolio by producing gruner veltliner, arneis and now, for the first time in New Zealand, the popular and stylish Spaniard, albarino.
Widely planted in Northern Spain and Portugal, albarino is believed to have been brought to Iberia by Cluny Monks in the 12th century and the name "albarino" means "the white from the Rhine", although it's more likely to be a relative of a French variety, petit marseng.
New Zealand's first albarino has been crafted by Coopers Creek from grapes grown in Gisborne in the 2011 vintage.
It has been called the Bell Ringer, after the growers, Doug and Delwyn Bell.
Probably not a wine to cellar, this light, crisp, aromatic, fresh fragrant wine with citrus peach and a swish of minerality is sure to appeal to the New Zealand palate. It has instant likeability, is uncomplicated and very refreshing, but doesn't taste familiar.
I was extolling the virtues of this new discovery to my old school friend and former past-deputy chair of the New Zealand Winegrowers, John Webber. His Matador Estate in Marlborough has been growing sauvignon blanc grapes with considerable success since 1987. It seems my former Ellerslie neighbour has recently spent time in Spain researching albarino himself and is very keen "to give it a go".
As a commercial grower and smart marketer, he says, "It's a tough-skinned and relatively easy grape to grow and it works brilliantly with our seafood."
It feels and tastes like a wine we should have been making years ago. Good on Coopers Creek for running with it.
Recommended
2011 Coopers Creek Gisborne Albarino Bell-Ringer,
An early drinking vibrant fresh white wine that works with so many foods including Asian dishes, chicken, crab, prawns and fish. It is medium bodied with lots of zestiness and great length and finish. A lovely purity of fruit. This one should catch on.
2010 Coopers Creek Gruner Veltliner Gisborne The Groover, $20
A favourite style in Austria, often with a peppery underbelly, this makes a lovely aperitif. Medium bodied, tending dry with rich ripe tropical fruit notes such as peach, apple and melon. Best drunk young.