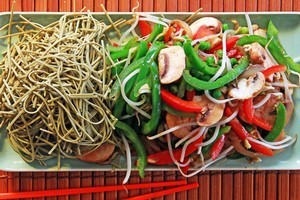 Runners' food doesn't have to be bland - make training a culinary experience with dishes that contain all the elements to keep you fuelled. Recipes and food styling by Grant Allen.
Serves 2
1 medium onion
1 green pepper
1 red pepper
1 can water chestnuts
1 cup bean sprouts
4 medium mushrooms
1/2 cup sweet peas
1 tbsp Chinese five spice
1 tbsp vegetable oil
Soba noodles
1 Chop the veges to bite size. Sauté the onion, pepper and peas first, adding the Chinese five spice as desired. Then add in the water chestnuts, sprouts and mushrooms, as these require less cooking time. Saute until the veges are at your desired tenderness. Check the seasoning.
2 Cook the soba noodles as described on the packet. These come in various flavours - plain, wholewheat, green tea etc. Cook as many as you feel you can eat.
3 Add the cooked, drained noodles to the vegetables. Add a good slug of light soy and the juice of half a lemon. Other seasonal vegetables may be used - asparagus, sugar snap peas or beans would work well.