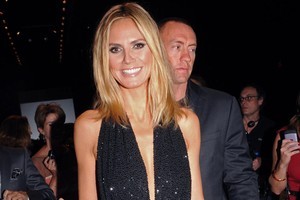 German supermodel Heidi Klum's legs have been insured for US$2 million (NZ$2.4m).
Klum, who is married to singer Seal, reveals one leg is worth more than the other due to an imperfection from a glass wound.
"I didn't personally have them insured, but a client of mine did. Basically, I was in London, and I had to go to this place where they check out your legs," she tells TV news show Extra.
"They would look at them and I had one scar here from when I fell on a glass, so this (left leg) isn't as pricey as this (right) one."
- AAP