Address: 68 College Hill, Ponsonby, Auckland
Ph: (09) 376 4230
Website: thecavalier.co.nz
Open: Sunday from midday; Monday from 11am; Thursday to Saturday, 11am-1am.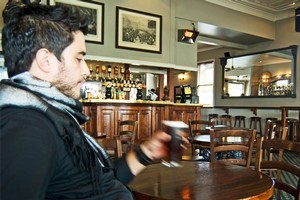 I've been meaning to get around to reviewing the Cavalier for a while. It had been a while since I'd been there and every time I drove past, I reminded myself to pay a visit.
So I was in town one evening, wandering around near Victoria Park when the idea struck me to drop into the Cav for a quick ale and a look around.
It nearly killed me. For a man of my age and in my condition, the walk up College Hill is arduous and it was only the thoughts of an beer at the Cav that kept me going.
I was well rewarded for my efforts.
The Cavalier is an undoubtedly old-fashioned bar, from the beautiful kauri fireplace to the atmosphere, which is hearty and warm. The locals seemed welcoming as well and it was with a certain amount of relief that I ordered a pint and looked for somewhere to sit.
If the Cavalier has just one crowning glory, it is the deck. Sitting outside and overlooking the city while having a well-deserved drink was wonderful.
The view is one of the best in Auckland and there are few better places to spend a sunny afternoon.
The beer selection is fairly perfunctory, but the beer itself is well kept and the staff friendly and helpful. The interior of the bar is filled with comfy tables and stools and a few leaners, while the kitchen does a steady business, a reflection of the standard of the food.
The menu is fairly standard pub fare, but it is well done, well presented and very reasonable.
The place is as clean as a whistle too, and thankfully free of the sort of over-loud music that infects too many bars.
All in all, it's a grand spot to call into for a drink and something to eat and a welcome respite from the rigours of nearby Ponsonby Rd. I'll be back.
Scores:
Service: 4/5
Drink: 3.5/5
Food: 4/5
Atmosphere: 4/5
Overall: 4/5