It's fun watching singles from both genders out on the town, writes Don Kavanagh.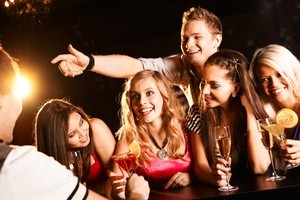 To suggest that men and women think differently is to invite accusations of stating the bloody obvious, but I've noticed that they drink differently as well.
I don't mean in volume or type of drink, but the motivation for going out and having a few seems to come from entirely different places for women and men, and both groups seem to get something different out of the experience, even if - sadly - ill-discipline often leads to similar outcomes for both.
I am reliably informed by several women that they go out for social reasons - to catch up with friends and to discuss their lives and often their relationships. For men it is usually the complete opposite: they go out to avoid talking about their lives and their relationships and to settle down with similar blokes and talk about the really important things like sport and whose round it is.
This is a gross generalisation, but since I have limited space, it will do for the moment.
There is a distinct disconnect between men and women when it comes to hitting the town.
Granted, for younger, single folk there is an entirely different reason altogether. They will go out, dressed up like peacocks in order to attract a mate, even if it is only for 12 hours or so. It's quite fun watching such people from the safe distance of middle age. Hair so full of gel it is almost reflective, artfully arranged tops designed to reveal as much as they conceal, shoes that have been shopped for and agonised over for hours ... and the women are even worse.
There are few experiences as sobering as running into the force-field that results from a young man's application of eau de toilette and deodorant. It's like a physical barrier around him and it's a wonder any girl gets within a metre of him, to be honest. Don't they teach personal grooming in school? And if not, why not?
Even among the single and searching sector, however, that big disconnect still exists. The guys will all stand together, dressed alike and shouting "Maaaaaate!" at each other, while watching the game on the big screen, while women tend to dress as individually as possible to avoid the crashing shame of turning up wearing the same top as a friend. This would never occur to a bloke.
And while the girls will drink their wines and cocktails, the guys will suck on their beer bottles as though they are comforters. Thankfully for all of them - male and female - they care not a jot what anyone outside their group thinks of them.
And for that I can only say thank heavens all that palaver is over.
* Don Kavanagh has been involved in the hospitality trade for more than 25 years and is the editor of Hospitality magazine.