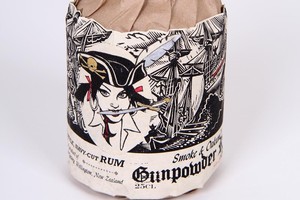 There are some partnerships that simply cannot be torn apart: Starsky and Hutch, gin and tonic, roast lamb and mint sauce and, definitely, pirates and rum.
Perhaps you could add to that list Ben Simpson and his leather notebook of recipes, adjustments, flavours and important information pertaining to the Smoke & Oakum Manufactory, which is where he produces Gunpowder Rum - lovingly by hand - at the rate of 24 bottles a week.
Working behind bars for nearly 20 years, Simpson was frustrated by a lack of ingredients being readily available in New Zealand's small market. Enticed by the history of pirate rum, his idea would become a project and a passion.
Though many other spirits are governed by strict rules and processes, there's no one single way to make rum, so long as the principle flavour profile of the sugarcase-based product remains the same. In many respects, it's the ideal all-comer's spirit, says Simpson.
But with few rules to follow, there is still much tradition and history on the line. The mission of the Smoke & Oakum Manufactory is to produce a rum that tastes the way it might have 200 years ago, when it was made with what was available and as strong as possible. While the alcohol content is strictly governed, the rest of the process was up for grabs.
Blending the rum himself, balancing the flavour profile according to his leather notebook, Ben adds chillies, calumet tobacco and actual gunpowder before letting them infuse. As he explains the process, it's easy to imagine bartenders of centuries ago, making their own rum in the same way. Once the ageing is finished, the rum is then bottled by hand, including bottling, labelling (with the hand-coloured labels) and marking with the batch and bottle numbers and the alcohol content.
The rum itself is punchy, a heavy molasses and caramel nose that gives way to a familiar dark rum introduction to the palate with plenty of spice and not too much sugar, which comes from the gunpowder and chillies. The tobacco adds a little bitterness to balance.
This is a big, bold and brash spiced rum - the chilli cuts through the heavy sugar on the nose. We thought it was perfect to try in a Mai Tai variation and were not disappointed at all. The complexity of flavour in the rum worked well as the citrus works to compensate for the spice without overwhelming the base spirit.
Where to buy: Havana House on Customs St, Mea Culpa and Golden Dawn in Ponsonby. More info here.