Body Corporate firm general manager and RWC opening ceremony performer Simon Priddy, wife Jane and children Olivia (5), Pippa (3) and Annabel (1) have lived in Belmont for the last five years. Simon tells Danielle Wright why it will always be home for his family.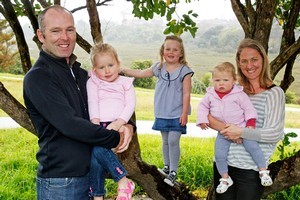 I grew up two minutes away, on the other side of Lake Rd, at Hauraki. It's a lot busier now, the schools have become bigger and there are more playgrounds and shops, but it's essentially the same as when I grew up here. It's a good feeling to be able to provide a similar life now for my kids.
When I worked in Takapuna it felt just like when I was at Rosmini College - wandering around Takapuna at lunchtime like nothing had changed at all. Now, I walk along Devonport or Takapuna high streets and am meeting more and more people I knew from school returning home from overseas, or over the bridge, coming back to the Shore to settle down with their families.
You couldn't live in this area and not make full use of all the beaches. In summer, we love Narrowneck for evening picnics and there are always lots of local families having fish and chips and a late swim.
In winter, when there's hardly anyone around, Takapuna beach is our favourite. It's clean, tidy, not too crowded and I have walked or run between here and Milford beach too many times to count: even in bare feet when my feet must have been a bit harder.
The walk between Takapuna to Narrowneck is also impressive. I discovered it on a geography lesson from school. Since then, I've followed the rocks at low tide with my first dog, Harry, and now with my children. There's always a few staircases up from the beach in case the tide comes in quickly.
All our children have learnt to swim at the Steve Lindsay swim school, which is a bit of a local institution, and just in the next street to us. I even learned to swim there when I was their age.
We're so close to Devonport and go to North Head and Mt Victoria all the time. Our family is part of the Narrowneck Playcentre, which has given Jane a great community of like-minded mums and a real sense of community for the girls.
You don't have to go far for a good cup of coffee and I've been taking my eldest daughter, Livvy, to Passion Cafe in Hauraki Corner since day one. It's a bit hard to go with all three kids now, but it's still a special place for us.
Little & Friday cafe is also a local hangout for our family, as well as Northboro playground, which Jane campaigned the council to begin once the old one was removed.
What do we like best about Belmont? It has to be the community, as well as the great beaches, playgrounds and schools. Everything in the neighbourhood is walkable - from the swim school to the walking school bus, the beaches and great cafes. It's part of a bigger city, but, to us, Belmont still has that small-town feel.
Simon and Jane's picks
Little & Friday is a small cafe with a big reputation for its country chic interior and delicious cakes and savouries. 43C Eversleigh Rd, Takapuna, open seven days 8am-4pm.
Passion Cafe has one wall dedicated to the artwork of the nearby Hauraki Primary School students and provides home-made cakes, muffins and scones to impress even the littlest foodie. 60a Jutland Rd, Hauraki, Takapuna, open Mon & Sat 8am-2pm and Tues-Fri 7.30am-3pm.
Northboro Reserve is a coastal playground with a nautical theme complete with limbing ropes and a flying fox. 39 Northboro Rd, Takapuna.
The Devonport Craft Market is full of beautiful handmade items - no plastic toys. Telephone Sarah Bird on 021 037 6882.