Spring's latest scents are beautifully bottled.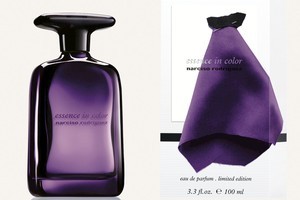 1. Miss Dior Cherie Blooming Bouquet 50ml eau de toilette spray, $148
A girly, flirty, floral choice with enough sparkle to avoid the sickly edge of many sweeter fruit-tinged scents. Peonies bring delicacy to the mix as the little bow does to the bottle. Look closely for designer detail, with Dior's favourite houndstooth check pattern etched into the glass of the base.
2. Narciso Rodriguez Essence in Color 50ml eau de parfum $175
A stunning purple bottle for Essence and For Her is rehoused in fuchsia in these limited edition In Color releases, which also remix the scents with new nuanced notes. Narciso Rodriguez got the idea when he was cutting out coloured paper dolls for fun one night, leading to a brighter clothes collection and these very covetable designer bottles. "I love colour when it's pure ... pure colour elicits profound emotions and memories and that's what fragrance should be about," he says. Essence in Color appeals to me more than the original version in the silver flacon, but fans of that won't find - as you do with some reworked scents - anything too dissimilar.
It's like trying on a favourite dress shape in a new shade.
3. Jo Malone Oud & Bergamot 100ml cologne intense $255
The intense versions of Jo Malone's colognes offer added staying power and some compelling scent couplings. Oud & Bergamot is a standout citrusy smoky combination. Fragrance fans might also like to check out Amber & Patchouli, Rose Water & Vanilla and Iris & White Musk all with a Middle Eastern inspiration. For warm and womanly it's hard to go past the delicious Amber & Gingerlily.
4. DKNY Golden Delicious 50ml eau de parfum $130
The little label on this golden apple reads "100 per cent Pure New York". Wonder if Tourism New Zealand is getting any royalties? This latest bite from the DKNY Be Delicious tree is one of the best, being a creamy floral with a pleasing warmth.
* If you fancy a bowl of these cute apples, a few months back a granny smith green one (Be Delicious Juiced) and a hot pink one (Fresh Blossom Juiced) also joined the franchise. (These fresh eau de toilette versions cost $110 for 50ml from Farmers and Life pharmacies.)
5. Jean Paul Gaultier Classique 100ml eau de toilette Silver My Skin collector edition $195
New season, new JPG. This time the sillhouette is rigged up fetchingly in metallic pink.
Stockists: Selected department stores and pharmacies (Life Pharmacies only for Jean Paul Gaultier). Cologne exclusive to Jo Malone, Atrium on Takutai, Britomart, or ph 0800 JOM SHOP.