The vice-president of an international perfumery tells Viva about creating a fragrance with top fashion designer Elie Saab.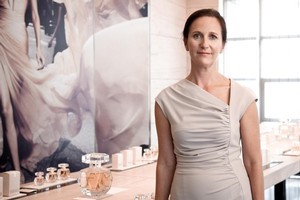 Trust a Frenchwoman to wax lyrical about food and fragrance. Whippet-slim Nathalie Helloin-Kamel gives the faintest hint of a Gallic shrug as she describes how unsophisticated palates make for unsophisticated scents.
McDonalds clearly isn't on the menu for the vice-president parfums at Beauty Prestige International. Her job is to usher successful fragrances to a global market, but right now she's swimming against a tide of sickly, fruity-floral muck.
"Fragrance is linked to what we eat," she says. "Teenagers love sweet things, sugary, fruity, syrupy and caramel."
What they like to eat is echoed in what they - and grown-ups who should know better - like to wear.
"There's a link between your ability to eat different things and to try different fragrances," Helloin-Kamel maintains.
Right now, she's hoping more sophisticated customers will want to sample Elie Saab Le Parfum, which she has spent several years developing in a partnership with the Lebanese designer of knockout red carpet and couture dresses.
He specialises in bridal, celebrity and princess dresses, including some for real-life royals Queen Raina of Jordan and Princess Victoria of Sweden.
Helloin-Kamel is counting on the glamour factor - meaning those not born to a title or a couture-sized cheque account might want a little taste of designer style via their perfume choice.
She's banked successfully on this formula before, being responsible for the hugely successful Narciso Rodriguez fragrance launches. Although her degree is in marketing and her business brain finely attuned, Helloin-Kamel has a true affinity with fragrance and, after starting her 25-year career at L'Oreal, she worked for Hermes before moving to BPI in New York and Paris.
The French company has a select stable, being also behind the fragrances of Jean Paul Gaultier and Issey Miyake.
"We chose Elie Saab because his vision of femininity is very different from Jean Paul Gaultier and Issey Miyake and even Narciso," she says.
Saab has long been the go-to designer for a wealthy Middle Eastern clientele, but his profile in the West has grown over the past decade or so, starting with Halle Berry choosing him for her Academy Award-win outfit in 2002.
The designer likes "womanly women who twirl their dresses with desire and pride. I've always wanted to please by flattering their curves".
Saab, now 47, grew up in Beirut, making his first dress for his sister at age 8. By his teen years his skills were gaining him a reputation in his neighbourhood and he headed to Paris for training, returning to his home town to set up shop.
By 1998 he was showing in Milan. He now holds couture and ready-to-wear collections in Paris, but remains proudly Beirut-based, employing more than 100 seamstresses and embroiderers who supply stores there and in London, Paris and Dubai, plus select stockists worldwide - though not in New Zealand.
"The creation of a perfume has become an essential step for a designer," he says.
"Our collaboration [with BPI] will allow us to construct a signature smell and image that is in tune with the DNA of our brand."
Helloin-Kamel shuttled between cities to ensure the designer's vision and her market insights came together. It was an extended and exacting process, with perfumer Francis Kurkidjan finally chosen for the task of developing a fragrance meant to "interpret light".
"I didn't have any specific images in mind, just sensations: the whiteness of the sun at its zenith, radiant femininity, a modern interpretation of voluptuousness," he explains.
That adds up to a fragrance with a floral, solar, woody theme, opening with orange blossom, revealing jasmine and patchouli at its heart and with a cedar woody base and a lingering rose honey trail.
To house this elegant concoction, more than 20 bottle designs were made, with the end result being influenced by a faceted Art Deco paperweight in Saab's office.
"When it smells good in Paris, it smells good in New York and in Sydney," says Helloin-Kamel, though she admits the markets do have different scent preferences. She's hoping her balancing act will prove appealing everywhere, being neither too trendy nor too traditional - "just beautiful".
She's also hoping women and her industry will learn to be more discerning and avoid fast-food-style fragrances.
"Our objective is to create fragrances that are easy to understand, but that withstand time."
* Elie Saab Le Parfum is available in Auckland at Smith & Caughey's, in Wellington at Kirkcaldies & Stains and in the South Island at Arthur Barnett. The 30ml bottle is priced at $108, with larger sizes and a body products line also available.