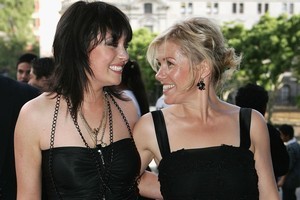 Kiwi women's love affair with the colour black has been underscored by a new survey which says 80 per cent believe it makes them look good.
Detergent maker Persil - which is promoting a new product designed for black clothes - surveyed 498 women in August.
The survey showed a quarter of New Zealand women delayed a wash in order to keep their clothing looking black for longer.
Fashion designer Sera Lilly said the survey results rang true. She estimated her own wardrobe was 90 per cent black.
The results were possibly influenced by the degree to which Kiwi women were comfortable with their bodies, she said.
"We all know black looks the best, it makes us feel the best, it's more flattering.
"It's darker so it obviously hides a lot more."
The Ponsonby-based designer said most understood black was endlessly versatile - it could be dressed up and down with accessories easily and it was a staple go-to which most women wore well.
"I think we are safe. But I think we're safe as a country.
"I think you've got to be quite confident to wear quite a bold colour.
"If you're getting a dress or a gown that's quite costly, black's going to go with everything; if you wore a bright orange dress people would remember that every time you wore it."
Black is so ingrained in our national psyche that an exhibition exploring the country's obsession with it has opened at Britomart.
Black in Fashion has been curated by the New Zealand Fashion Museum and has opened in time to coincide with the Rugby World Cup.
Persil spokeswoman Georgia Rogers said: "The results confirm what we've always suspected: Kiwi women have a unique relationship with black clothing".
The figures:
69 per cent said they wore black five to seven times a week.
86 per cent said they wore black more than any other colour.
80 per cent believed black flattered their figures.