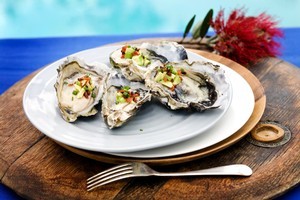 The Rugby World Cup is not only an opportunity for New Zealanders to show their skills on the sports fields - we have a wide variety of traditionally Kiwi treats we create in our kitchens.
Owner of Molten restaurant in Mt Eden, Auckland, and star of TVNZ show The Food Truck, Michael Van de Elzen, says you haven't experienced New Zealand until you've eaten quality fish'n'chips at the beach.
"I think [visitors] should start with a good fish'n'chip shop," he says.
"There's some that are so good but there's nothing like going to [Auckland's] Fish Pot Cafe and sitting on Mission Bay beach eating out of newspaper looking out over to Rangitoto with the fountain in the background and children running around on a nice day. If that's not Kiwi, I reckon nothing is."
He says visitors have to try New Zealand's fantastic seafood.
"Alan Brown's Depot [Federal St, central city] he has freshly shucked oysters three different types that are opened there for you. It's always very busy, so you know the seafood is going to be fresh."
Fresh Bluff oysters from down south might be best tried at the Drunken Sailor Cafe in Bluff at the bottom of the South Island.
Last year's MasterChef winner, Brett McGregor, says rugby fans are just in time for the whitebait season on the West Coast of the South Island and could do worse than to try fresh whitebait fritters at a local cafe.
Paringa Salmon Farm Cafe near Lake Paringa, South Westland, comes recommended for whitebait fritters as well as, of course, its fresh salmon dishes.
McGregor says tourists should aim to experience any of New Zealand's fresh produce including beef and lamb. And what better way to try our beef than in that old Kiwi favourite, a mince pie? Hollies Bakery in Hastings took out the top prize for a mince and gravy pie in this year's Bakels New Zealand Supreme Pie Awards.
But Van de Elzen says experiencing Kiwi grub is as much about where you eat as what you're eating.
"We've got such beautiful scenery here, particularly around the water. Hammerheads [Restaurant in Auckland] is beautifully located near the water, and of course there's the new Wyndham Quarter, which has been very popular.
"Or why not get a picnic hamper and walk up to the top of Rangitoto? A picnic can be very Kiwi."
Tourists are also encouraged to try a traditional Maori hangi. An online forum recommends the Wairakei Terraces in Taupo for an authentic experience of a hangi cooked the traditional way.
For basic, there's always the humble cheese roll, with Cable Bay Cafe near Nelson one of the best.