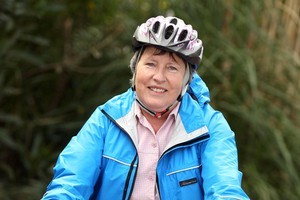 The brave mother of two of New Zealand's top music stars has responded to a terminal diagnosis by setting off across Europe on a bicycle.
Jenny Short, 62, says her life was shattered five years ago when she was diagnosed with incurable liver cancer just months after having both breasts removed because of primary breast cancer.
When she was told the cancer had spread to her organs she feared the worst.
"That is the gob-smacking [diagnosis], you go weak at the knees and your voice starts wobbling," Short said.
That was the day the mum of The Feelers bassist Matt and former Concord Dawn member Evan decided to start living life by fulfilling her dreams and stop sweating the small stuff.
The Takapuna, Auckland, woman who teaches high-school Japanese, quit work and booked flights to Europe where she holidayed with her husband Rod Short.
She completed the physically demanding Otago Rail Trail 18 months ago and has now set herself the challenge of cycling across several European countries in six weeks.
"This is the attitude a lot of people who have had mind-blowing accidents or diced with death, you suddenly [know] what is important in life.
"Everyone needs to make the most of their time because you never know when it is going to be over."
She said her sons weren't surprised about the cycle challenge.
"They just think that's my mum, she is pretty tough now. When I told them what we are going to do, they didn't raise an eyebrow."