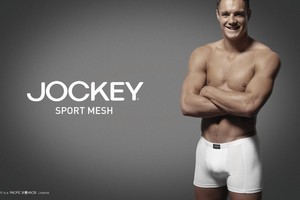 We've seen Ma'a Nonu in eyeliner and Dan Carter advertising deodorant, so it's perhaps no surprise that use of cosmetic grooming products has become widely accepted by young New Zealand men.
But according to new research, having more than five male grooming products in the bathroom is still a step too far in the feminine direction for Kiwi blokes.
The study, Retailing masculinity: Gender expectations and social image of male grooming products in New Zealand, was conducted by Dr Lisa McNeill from Otago University and L'Oreal scholarship honours student Katie Douglas.
"In the past, grooming products have been seen as a feminine area of consumption," said Dr McNeill.
"Now you just need to look around the supermarket to see there are more and more male-orientated grooming products beyond soap and shampoo, such as scented deodorants, hair products and moisturisers.
New Zealand males still hold on to the idea of masculinity in an agricultural or sporting mould; our focus groups talked about the All Blacks as male role models all the time. You might think using grooming products is in conflict with the Kiwi male psyche. But today's young men have grown up with these products and have integrated them into normal consumption."
Ms Douglas recruited a group of 18- to 22-year-olds to take part in focus groups and interviews exploring their use of grooming products and attitudes towards cosmetic consumption. The study indicated young men's awareness of their appearance was increasing and appearance was becoming important at an earlier age.
Dr McNeill said the men were happy to use grooming products, but under rules that fitted their image of masculinity.
"We don't want to give the impression that we have a country of men open to wearing mascara and eyeliner. We do have a country of young men who are open to using grooming products while not wanting to take the manliness out of being a man.
"It was okay to have about five different products in your cosmetic arsenal, but unless you have a skin problem it was not justifiable to have more than that.
"The group talked about general consumption becoming feminised, too," added Dr McNeill. "For example, they said the fashionable clothes in the men's shops are all tight, but if you have a more traditionally masculine body type you may not feel comfortable in those clothes ...
"On the other hand, a few of them talked about the prevalent fashion for facial hair as an attempt to claim back the manly image. One summed up the conflict by saying, 'Men want to be the pretty boy to the ladies, but around other men they want to be the rugged man."'
The study showed the largest influences on whether they bought grooming products were their mothers and to a lesser extent their girlfriends.
"The research revealed really positive things about the New Zealand male," said Dr McNeill. "They have worked out how to balance the notion of being manly with using products that are good from a hygiene or self-care perspective, but that could also be seen as beauty products."
- APNZ