Wendy Doyle talks to Rebecca Kamm about her favourite spots in Campbells Bay, and why it's such a family-friendly suburb.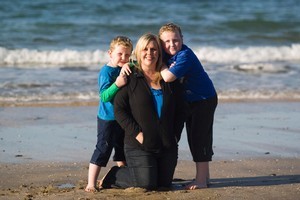 Campbells Bay has a relaxed holiday feel to it. We love the beach here - it's safe, good for families and never gets too crowded. The kids love playing in the sand all year round and swim every day in the summer; the water is fairly warm then and can be clear on a nice day. There's also a small reserve with a playground for the kids, and then it's an easy walk along the rocks to Mairangi Bay where there's a great range of cafes, restaurants and shops.
I was lucky enough to grow up in the area. When you're a kid you don't realise how lucky you are - until you do your own travelling and have your own children.
Those two things really make you appreciate how fortunate we are to live in paradise.
After travelling and working in Wellington and London, my husband Jack and I decided to come home.
Originally we were going to have our first child in London, but the hormones took over and I wanted to be closer to family and somewhere we could bring the kids up with clean air, beaches and greenery.
We have two boys: Jack, 8, and Harrison, 5. We also have a very friendly family dog called Daisy; a Cavoodle.
We're lucky in Campbells Bay to still have a local dairy - it's great in the weekends for that extra carton of milk and a newspaper. We do tend to shop in Mairangi Bay, though, as there's a supermarket, butcher, baker, cafes, restaurants and everything else you need, all just a 10-minute walk away.
My favourite place for dinner would have to be Zavito. It's a great family-friendly restaurant with a kids' menu and the service is always welcoming. I get the chicken fillet with cranberry and camembert - delicious. Paper Moon is another wonderful restaurant; very nicely set out, and they do great coffee and lunch, too. It's a good place to meet friends after school drop-offs, or post work.
We love walking in Centennial Park, one of Auckland's biggest. Every weekend we wander up there - it has a huge bush area which backs on to an 18-hole golf course, and the Campbells Bay tennis club is right in the middle of it.
There are also nature walks ranging from 15 minutes to two hours and plenty of places to have picnics.
The kids are always trying to find a "bear" or "tiger" hiding in the bush. They love it.
In the summer we take the kids down to the beach for a swim, and in the winter we take a couple of spades to make sandcastles.
You can't beat a picnic on the beach on a beautiful day, looking out to Rangitoto Island with all the boats in the harbour. We've even seen dolphins - and a whale, once.
For a treat we often wander to the dairy for a good old icecream, then down to the beach just to sit and enjoy the gorgeous scenery. It's our favourite place - go there, and also to Centennial Park. You'll love them both.
* Wendy is a resident artist for the NBR New Zealand Opera. The Cavalleria Rusticana and Pagliacci season runs from 15-25 September.
Wendy's picks:
Paper Moon, 437 Beach Rd, Mairangi Bay. Ph (09) 479 8872
Zavito Restaurant & Bar, 404 Beach Rd, Mairangi Bay. Ph (09) 478 4080
Centennial Park, Beach and Rae Rds, Campbells Bay